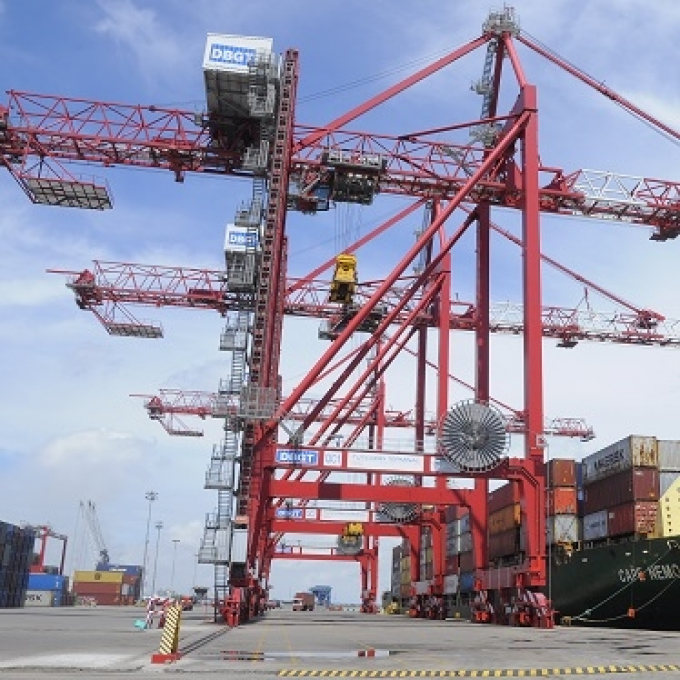 A €5.7bn ($6.2bn) deal inked last month by MSC to acquire Bolloré Africa Logistics has helped the Geneva-based behemoth secure a "growth-oriented" container-handling foothold on India's east coast.  
Bolloré holds a 49% stake in the Dakshin Bharat Gateway Terminal (DBGT) in VO Chidambaranar Port (VOC), better known as Tuticorin, near Chennai.  
Opened in 2014, with capacity of 600,000 teu a year, DBGT now commands roughly 75% of container volumes moving via VOC.  
MSC is already a joint-venture partner in the Adani International Container Terminal (AICTPL), the busiest in Adani Group's flagship Mundra Port on the west coast of India, and the race to expand its presence in the Indian port landscape is not likely to stop there, as Bolloré is a majority partner in a consortium that has bid on VOC's new public-private-partnership project to convert a bulk terminal into a container terminal.  The winning bidder is expected to be announced shortly.
Interestingly, MSC is anchoring itself off India's east coast corridor just as port leaders are making elephantine efforts to lure mainline services calling at Colombo, taking advantage of the crisis plaguing Sri Lanka, and a reworking of the tariff algorithm by VOC this month is proof of that aspirational strategy.
Subject to some minimum traffic and trade coverage criteria, VOC is offering rebates of up to 85% on its normal scale of vessel-related charges for container lines connecting trades to the US and Europe. Similar concessions, albeit at a lower level, are on the table for mainline services serving routes to South-east Asia and the Middle East.  
"For the financial year 2022-23, VOC intends to achieve the milestone target of 900,000 teu," said the port authority, as it unveiled the one-year incentive package.  
MSC's connections – mainly for transhipment cargo – contribute a substantial portion of volumes handled by DBGT.  According to port data obtained by The Loadstar, DBGT handled 598,279 teu in fiscal year 2021-22, up from 548,942 teu a year earlier, far outpacing its peer, PSA Sical, that saw 2021-22 volumes slip to 183,179 teu from 213,337 teu.  
PSA Sical, Tuticorin's first PPP venture, is embroiled in a long-running, tariff-related dispute with the port authority, straining capacity utilisation and productivity levels and seeing carriers serving VOC switch to DBGT in recent years.  
Transhipment handling in Mundra has become a big play for MSC as it builds its Indian containerised trade. And industry observers believe the predictable competitive advantage at VOC from the Bolloré buy will serve as a "beachhead" for the world's largest carrier to replicate that game on the east coast.
"The acquisition of Bolloré Africa Logistics reaffirms MSC Group's longstanding commitment to invest in Africa and to strengthen supply chains across the continent, as well as connecting it to the rest of the world," said MSC Group.
Further, its subsidiary, Terminal Investment, is among 12 shortlisted bidders for a concession to privatise the sagging state-owned terminal in India's Nhava Sheva Port (JNPT). 
You can contact the writer at [email protected]