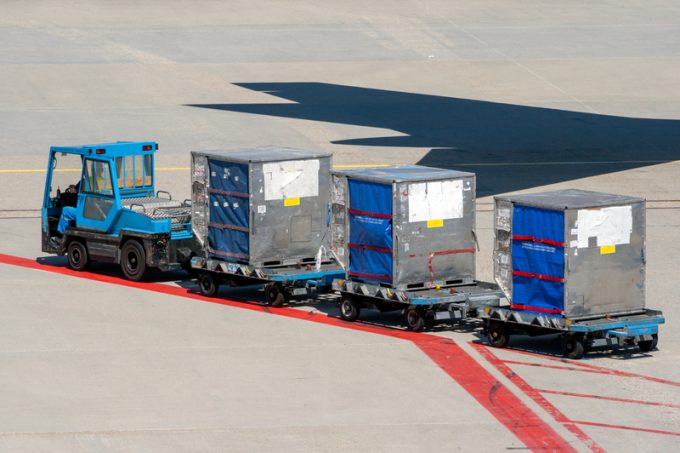 The European Union's decision to relax slot rules has stopped 'ghost flights' – those operating with nothing on board except flight crews for the sole purpose of retaining slots.
The industry can now expect to see a growing fleet of passenger aircraft flying without passengers – but with cargo in their bellyholds.
Delta is the latest carrier to join a lengthening list that have decided to deploy idle aircraft to move cargo, announcing this week it was responding to corporate customers by launching cargo charter operations around the globe.
The service is available out of 13 US gateways, connecting to over 70 international destinations, "meeting client needs from packages to pallets".
Delta Cargo vice president Shawn Cole said: "Offering new supply chain solutions through Delta Cargo to our customers is one opportunity for us to provide the support othey tell us they need during this unprecedented business environment."
Delta did not specify how many aircraft it is fielding for the charters, but a company spokesperson reported that the mix covered the airline's B717s to 777s. She added that widebodies for international routes were proving most popular.
"We are seeing strong interest, especially in our B777-200/300 variants and our A350-900 aircraft. The A350-900 is a state-of-the-art carbon fibre-bodied aircraft and, owing to its light weight and huge cargo belly, is able to uplift more than 50 tons," she added.
Delta is cutting its overall seat capacity by 40% and grounding 300 aircraft, with more to follow if the US government implements a domestic flight ban.
Its rival, American, is idling 135 widebody aircraft, having slashed international flights between 16 March and 6 May by 75%. Most of the routes cut are to Asia, but services to Latin America, Europe, Australia and New Zealand has also been slashed.
According to IATA, airlines have cancelled over 185,000 flights since the end of January and are facing a brutal impact on their bottom lines. The association has warned that industry revenue could take a hit of up to US$113bn. The US airline industry has asked Washington for more than $50bn in federal aid to get through the crisis.
In this situation, the use of passenger aircraft to move cargo offers some financial alleviation, paired with meeting demand for cargo lift in a crisis. Korean Air added that it saved some money on parking fees as well as helping importers and exporters.
The carrier announced this week it intended to launch cargo flights with passenger aircraft to Qingdao on 21 March and intends to add more destinations in the near future.
KAL joins two other Asian carriers using passenger planes for cargo charters. Last week, Singapore Airlines offshoot Scoot, which has suspended passenger flights to China until 25 April, announced plans to field B787-9 planes for flights to Guangzhou and Nanjing. And Cathay Pacific has reportedly deployed A330 planes for cargo missions to China and is considering a similar approach to Japan.
At least one European carrier is also signalling interest in belly cargo charters. IAG, which is set to ground about 75% percent of its seat capacity, has noted "strong demand for cargo" and indicated it "may operate some passenger aircraft just for bellyhold cargo to ensure we keep critical supplies moving".
Carsten Spohn, chief executive of Lufthansa, told a German newspaper the airline would "do everything to maintain the supply chains" for providing the German population by air, adding: "We are working full steam on an air bridge for the whole of Germany."
The abrupt disappearance of vast chunks of belly capacity as passenger services were axed has left forwarders scrambling for capacity and prompted a flurry of charter arrangements. Ceva disclosed on Monday it had signed contracts for 86 cargo charters "to keep supply chains running and prevent production lines from closing down".
Other forwarders that have recently stepped up their arrangements for dedicated freighter lift include Senator and Dachser.
Brain Bourke, chief growth officer at Seko Logistics, told The Loadstar: "The situation has really stepped up the need for forwarders to find new ways to cooperate – I wouldn't even call it coopetition, I think it's gone beyond that.
"There aren't enough aircraft to go around and the lines of communication need huge improvement, because the charter companies aren't able to do it.
"There may well be three forwarders round me right now who have enough to fill a 747, but who is going to coordinate it? A much greater level of collaboration is almost a requisite now."