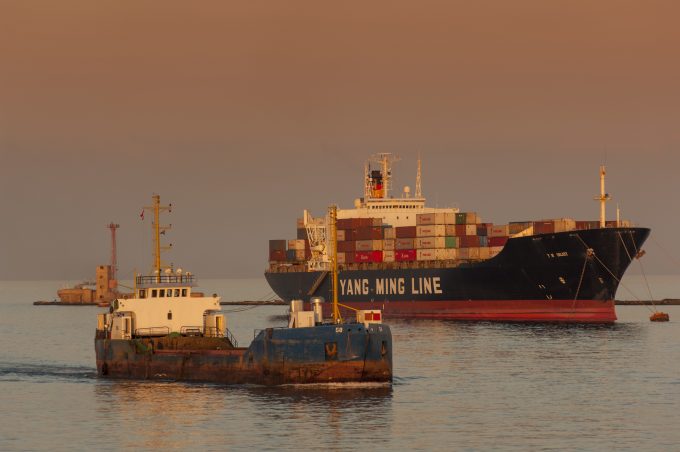 Taiwanese ocean carrier Yang Ming moved into the black in the third quarter for the first time in over two years, it said today.
However, the return to group profitability for the carrier, and the bumper returns for the sector in general, has angered shippers who accuse container lines of taking advantage of supply chain pinch points to increase rates.
Despite an 11% drop in its liftings, to 1.28m teu, in the quarter, Yang Ming's revenue increased 2.8% on the same period of last year, to $1.3bn.
Boosted by soaring freight rates, due to a shift in consumer spending towards e-commerce and tight capacity constraints on THE Alliance sailings, the carrier recorded a $92m net profit for Q3, and for the nine-month period, $62m.
Yang Ming said a "positive trend" was continuing in the final quarter and "the company will set financial stability as its priority".
The carrier's box business actually returned to the black in Q2, contributing a profit of $18.6m, but a $21m loss in the dry bulk sector kept the company in the red.
THE Alliance partner ONE this month reported a profit of $515m for Q3, and tomorrow lead line Hapag-Lloyd is expected to also announce substantial profits for the period, after earlier upgrading its full-year earnings guidance by 28%.
The liner industry is successfully navigating its way through the pandemic and has turned a potentially ruinous year into what could become one of its best ever, financially.
However, carriers are coming under increasing fire from shipper associations for their unrelenting freight rate increase and surcharge assault on customers at the same time as continuing to blank sailings.
Carriers have unleashed a raft of rate increases across services out of Asia in past weeks, not just on the main east-west deepsea routes, but also on secondary tradelanes, even extending into the myriad intra-Asia connections.
And this week, carriers have continued to shore-up their balance sheets with a new rush of freight rate, peak season and congestion surcharges for December.
Hapag-Lloyd advised shippers on Tuesday that from 1 December its FAK rates from Asia to Europe would rise by at least $2,000, to over $5,000 per 40ft.
And the German carrier is not alone. The Loadstar understands from UK-based shippers that all the container lines have raised their FAK rates significantly in the past few weeks and some are refusing to negotiate the renewal of long-term contracts.
The European Shippers Council (ESC) has described the strategy as "immoral". Speaking to The Loadstar, Jordi Espin, policy manager maritime transport, said the ESC was "very concerned" about the "change in market behaviour".
He said the shortage of containers, blank sailings and spike in rates was contrary to good customer practice.
"A customer-oriented market should be framed with the aim of a mutual understanding under a negotiation environment where service is offered and chosen accordingly," said Mr Espin.
"None of these factors exist now. There is no operational certainty and no possibility of price forecasting, so shippers can only hope to get their containers loaded and delivered," he said.