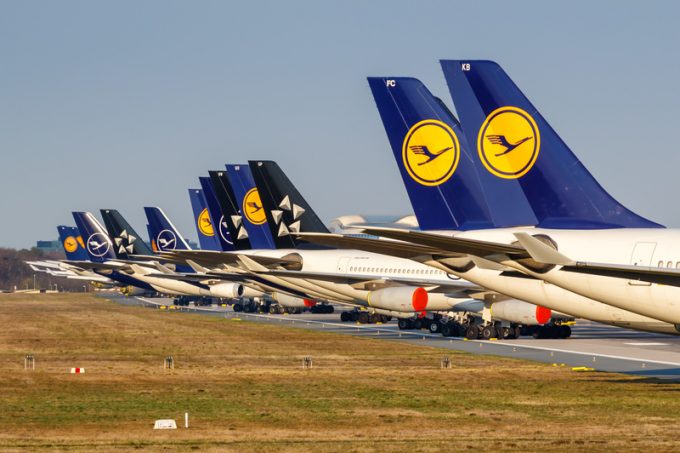 The A330-200 has vanished from American Airlines' operations.
The US carrier announced on Wednesday it would put its entire A330-200 fleet into deep storage at least until 2022, with routes served with the type to be covered by B777s and 787s.
As realisation sinks in that the road back to pre-Covid-19 passenger numbers will likely take two or three years, the fate of some of the grounded planes looks increasingly hazy.
By mid-April, the pandemic had grounded more than 16,000 passenger jets – nearly two thirds of the global fleet – reducing global airline activity to levels not seen in 26 years.
Lufthansa CEO Carsten Spohr warned that his airline would emerge from the Covid-19 slump with 10,000 fewer employees and 100 fewer aircraft in its fleet.
Bob Convey, vice-president of sales & marketing of the company, expects consolidation in the leasing market. Many players in that segment have never been through a downturn before, he said.
As aircraft like the 757 are retired from passenger service, suddenly there is ample feedstock at tempting prices available for conversion into freighters.
"Feedstock should be much more readily available," said Tom Crabtree, regional director, Boeing Commercial Airplanes market analysis – air cargo.
He reckons the experience of recent weeks will prompt some soul-searching at airline boards.
"I think airlines will re-evaluate the role of freighters in their fleets, especially national carriers," he said.
"We will see growth of combination carriers with passenger and freighter aircraft," agreed Brian McCarthy, vice-president aircraft trading of Precision Aircraft Solutions. "Sun Country now flies 15 planes for Amazon. It generates some business, keeps pilots employed and keeps assets flying."
According to Boeing, in 2018 the share of air cargo worldwide moves on freighters was 54%. With passenger operations severely curtailed, that share skyrocketed in March and April, pushing up yields. As demand exceeded the available capacity, passenger carriers have deployed some of their planes on cargo missions. By 29 April, 105 airlines had used nearly 800 passenger aircraft for cargo flights, Mr Crabtree said.
And he thinks this phenomenon will outlast the current rush for personal protection equipment (PPE).
"Demand is driven by PPE and pharma is attention-grabbing, but first and foremost air cargo is an industrial tool. Now supply chains are in disarray, and the best tool is air cargo, especially freighters," he said, adding that he expects pressure on rates to ease in the third quarter, which should reduce the appeal of 'belly freighters'.
Mr Convey thinks the concept may actually undermine active interest in freighters.
"I don't see major passenger airlines shift into freighters. They were parking freighters before. They need them only during crazy times," he said.
Instead, the concept of passenger aircraft stripped of seats to carry cargo on the main deck as well as in the belly could satisfy the call for a strategic freighter reserve to deal with emergencies, he added.
Stan Wraight, president & CEO of Strategic Aviation Solutions International, does not anticipate a boom in conversions of 757s, 767s or A330s into all-cargo configuration.
"Conversion houses – no, that's not going to grow. Its capacity is limited. Aircraft recycling companies – that's the growth industry," he said.
It seems the battle with the pandemic will toll a bell for some aircraft types. Some are obvious candidates – particularly four-engined models that are long in the tooth, and Mr McCarthy sees some indications in storage decisions.
"I think the airlines are telegraphing a bit of their fleet planning by where they parked their planes," he said.  "I think large numbers in deep storage is an indication of what will be flying."
Some airlines have been more outspoken about their fleet planning. American, which has parked about 450 planes, has said it would move-up the retirement of its 757s and 767s, A330-300s and Embraer E190s, while Lufthansa has taken steps to decommission 747s, A340s and A380s.
At the smaller end of the market, specifically the large narrowbody segment, the return of the 737 MAX is going to be an additional factor, Mr McCarthy said.
"Some people were waiting for the return of the MAX before they retired any of their 757s," he said. "The MAXs are the most expensive, they'd better keep them flying."
With an abundance of aircraft sitting idle, there is scant appetite for new aircraft. Lufthansa is one of many airlines talking with aircraft manufacturers about deferrals. It has outstanding orders for 123 Airbus planes (including 27 A350-900s) and for 20 each of  Boeing's 777X and 787.
At the same time investment dollars are draining from the industry.
"We don't see the ridiculous hedge fund euphoria any more," Mr McCarthy said. "The time to pay premium prices for that material is over. There was a lot of money paying ridiculous prices. This will cause the evacuation of institutional investors."