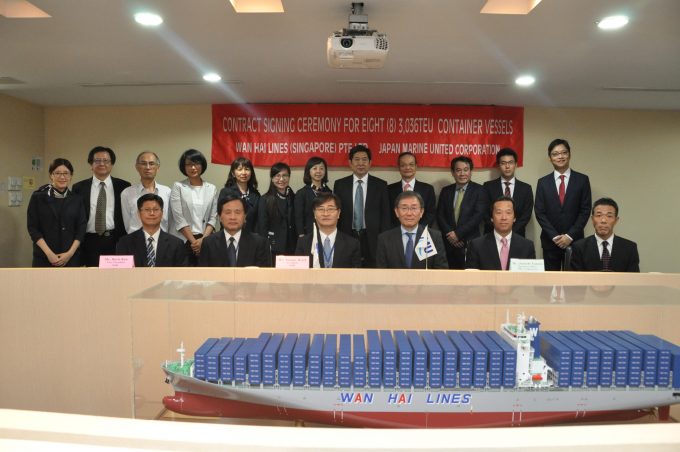 Taiwan niche ocean carrier Wan Hai has confirmed an order for 20 new box ships as part of its fleet renewal plan and market development ambitions.
The profitable container line is continuing its successful strategy of operating smaller containerships on its services.
Eight 3,036 teu vessels will be built by Yokohama-headquartered Japan Marine United Corporation (JMU) and 12 2,038 teu ships at the Chinese yards of Guangzhou Wenchong Shipyard (GWS) and China Shipbuilding Trading Company (CSTC).
Delivery of both types will commence from October 2020 through to January 2021, and Wan Hai has options for a further four 3,036 teu and four 2,038 teu vessels.
"This new shipbuilding contract is the company's latest fleet renewal plan, so as to ensure that the company's vessel fleet is able to maintain competitive and support continuous market development," said Wan Hai.
The third-biggest Taiwanese carrier after Evergreen and Yang Ming, with a capacity of 258,774 teu, ranking it 11th  globally, Wan Hai currently owns 72 vessels out of its fleet of 96 ships, which is significantly above the industry par.
Wan Hai's owned fleet ranges from feedermax vessels of 1,068 teu to post-panamax vessels of 5,610 teu.
Based on operating profit margins, Wan Hai has consistently out-performed its much bigger rivals over recent years, justifying its strategy to focus on minor tradelanes and to deploy smaller ships.
Indeed, the carrier was one of the very few container lines to post a net profit in the second quarter achieving a surplus of $9m on its trading for the period.
The carrier has not yet published its third quarter results however, but according to turnover data its revenue growth is up 8.55% year-to-date, compared with 2017, including some very strong numbers in recent months.
This contrasts with compatriot global carrier Yang Ming which has reported a loss of $220m for the first three quarters.
Since getting its fingers burnt several years ago in a vessel-sharing cooperation with PIL on the challenging Asia to North Europe route, Wan Hai has focused most of its development on intra-Asia services, although it still offers services between Asia and North and South America as well as to the Middle East.
It has also shied away from the clamour to order or charter ultra-large ships with the average size of its fleet approximately 2,600 teu.
Extensive scrapping of smaller containership tonnage over the past few years, combined with a virtually empty orderbook as carriers concentrated entirely on ordering larger vessels to underpin their unit cost reduction aspirations, has resulted in a dearth of smaller tonnage and carriers deploying unsuitable large ships to secondary trades.
Thus Wan Hai has been able to benefit from having the right-sized vessels for its trades and this clearly remains its business plan given its latest orders.
According to vesselsvalue.com data, the asset value of its 72 owned vessels has increased from a low of $443m at the end of 2016 to the current valuation of $662m.