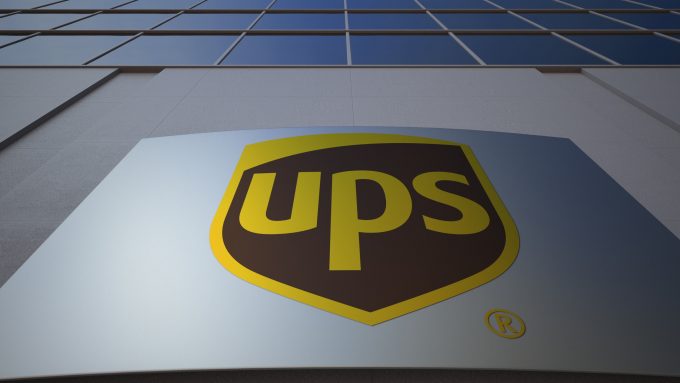 UPS saw consolidated revenue rise 9.6% to $17.5bn in the second quarter, but said operating profit was "not where we want it to be".
The best performing divisions were international, supply chain and freight, which all saw double-digit growth in both revenue and operating profit.
International revenues grew 14% to $3.6bn, while adjusted operating profit rose 15% to $654m.
Supply chain and freight revenue was up 16% to $3.5bn, with 23% revenue growth in forwarding. Adjusted operating profit grew 17% to $247m.
UPS spent some $2.8bn in capital expenditure in the first half and, as a result, will see capacity growth. Its two new automated facilities in London and Paris will have sorting capacity of 70,000 parcels an hour and the company is set to open its second-largest ground hub in Atlanta next month, sorting 100,000 pieces an hour – more than double the hub sorting capacity added last year.
The company benefited from increasing its prices, it said.
"We are taking pricing actions to better align our cost to serve with the value we create for our customers," said CFO Richard Peretz in an earnings call yesterday. "As a result, yields expanded in each of our major products."
He added that although B2C was outpacing B2B, several industry verticals, including manufacturing, technology and automotive, had seen "positive trends". Average revenue per piece rose 3.6%.
"Pricing initiatives and higher fuel surcharges more than offset the headwinds and mix," he said.
The company said it was expecting a "good" peak season, despite two fewer operating days in December this year.
"We're bringing on significant capacity, adding planned cost to the fourth quarter and opening several large new facilities that will provide benefits going into the future," said Mr Peretz.
In addition to the new facilities, UPS will also have a larger aircraft fleet.
James Barber, chief operating officer, noted that UPS now had six 747-8Fs in the network.
"And remember that a part of that plan all along has been the cascading of aircraft back into the US. Typically, that tends to be MD-11s. At times, it can be 767s.
"By the end of this year we'll have nine of the 747-8s in play, and we're going to have three new 767s in play as well. So the timing of that … supports this peak season. But remember, this is a multiyear. We're going to do this for the years to come, continuing to take six 747-8s every year."
Juan Perez, chief information and engineering officer, added that UPS would have "in excess of 350,000 packages an hour of additional sorting capabilities this coming peak season", when "our Saturday operations will be at full deployment and that will further help us smooth out the volume throughout the peak period creating additional capabilities."
So far, said CEO David Abney UPS had seen no significant impact from tariffs, but said UPS was monitoring the trade landscape closely.
"We are having more frequent discussions with our customers about this – what they may or may not need to do.
"If … these actions continue, there would always be some exposure or risk to our business. But that exposure is very limited … because we really see it as our duty to utilise our flexible global network and our broad portfolio to help our customers adapt to any changing trade dynamics."
He added: "UPS has long supported the advancement of free trade principles. We're advocating for future trade discussions to produce balanced and fair agreements for all parties so that cross-border commerce is easier for businesses of our size."
UPS also commented on an EU court adviser opinion, released yesterday, that the UPS-TNT merger should not have been blocked. If the European Court of Justice agrees later this year, it could help UPS win its lawsuit for damages of $2bn against the EU.
Mr Abney added: "What's really important, though, is from the point of that decision, we made a commitment that we were going to continue to invest in Europe. We said we were going to invest $2bn, and we are 70% or so of the way through that investment.
"It has paid off. We think it is a real strength of our network; and that part will not change based on any decision."
Mr Abney also responded sanguinely to a question concerning Amazon's increased insourcing of its logistics.
"It's not uncommon for large companies to make decisions to insource or outsource portions of their transport network. So this certainly did not surprise us. It absolutely increases their supplemental growth capacity. We also believe existing partners remain a very important part of their business model."
UPS also announced the results of its voluntary retirement programme, under which a select group of retirement-eligible US employees were offered a financial buyout to retire. You can see the full results here.