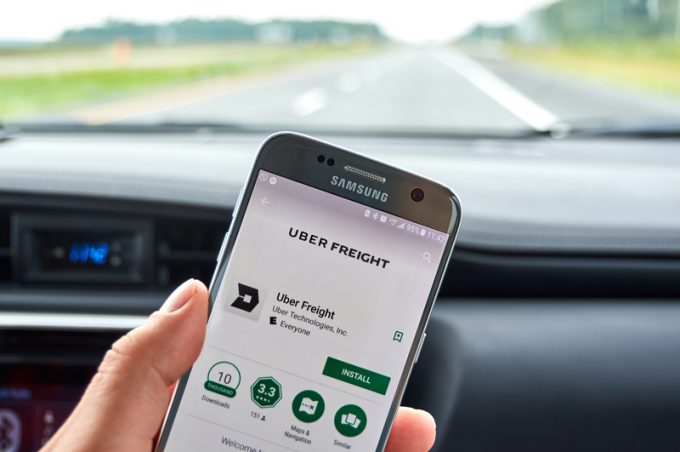 Uber's $2.25bn acquisition of US Transplace will push its freight division into profitability, as well as expand the services it offers online.
Uber said the deal would be funded by $1.5bn cash and the remaining $750m in common stock of Uber Freight's parent company, Uber Technologies, from Transplace's former owner, private equity firm TPG Capital, adding to the growing number of PE firms on its shareholder roster.
"This transaction will enable Uber Freight to serve substantially more customers at all levels of the freight industry and will expand its presence into Mexico, and through new capabilities, in intermodal and customs brokerage.
"This transaction is expected to accelerate Uber Freight's path to profitability and help the segment to break even on an adjusted ebitda basis by the end of 2022."
In Q1, Uber Freight reported an adjusted ebitda loss of $11m, compared with a loss of $64m in Q1 20, as revenues grew 51% (55% excluding the divested Europe business) year on year, to $301m, compared with $199m the year before.
Its adjusted ebitda margins improved as a result – by 2,250 basis points year on year and by 340 basis points compared with Q4 20, "as the business continues to scale its carrier network and improved automation of the load lifecycle".
Transplace began life as a traditional US truck broker, with extensive experience of also organising Mexico-US cross-border shipments, but its PE investors clearly saw the potential for significant technology capex, combined with selective M&A to bulk up its valuation.
It was acquired by TPG from PE firm Greenbrier (which also owned a significant stake in Seko Logistics at the time) in 2017, when TPG was focusing on supply chain tech investments – around that time, it also acquired Llamasoft and Transporeon.
Soon afterwards it acquired Yusen's North American intermodal brokerage, knitting together its land freight operations.
Transplace made three bolt-on acquisitions last year: cloud-based trucking collaboration platform Lanehub in January; parcel transport management systems provider ScanData, thus launching it in the e-commerce and last-mile sectors; and LeanCor in September, giving it supply chain consulting and training services.
It will be intriguing to see how Uber Freight goes about integrating these into its platform.
"Our expectation is that shippers will see greater efficiency and transparency, and carriers will benefit from the scale to drive improved operating ratios," said Transplace CEO Frank McGuigan on the Uber deal.
"We expect to significantly reduce shipper and carrier empty-miles, to the benefit of highway and road infrastructure and the environment," he added.