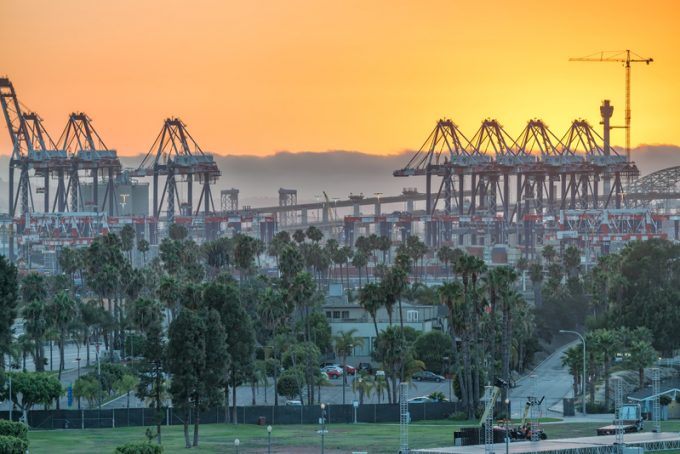 The lack of developments on negotiations between China and the US on tariffs is expected to contribute to the first full-year decline in volumes on the headhaul eastbound transpacific trade since the global financial crisis.
The last time the trade saw volumes decline was in 2009, in the wake of the collapse of Lehman Brothers and when global port throughput fell by around 10%.
According to an Alphaliner forecast today, eastbound transpacific Asia-North America trade could contract by 2% this year, after liftings in October saw a surprise 3.9% year-on-year decline, resulting in a lower-than-expected Q4 result.
"While volume growth remained marginally positive in the first three quarters of this year, despite the ongoing trade war between China and the US, the fourth quarter is expected to register a significant decline, with no repeat of the front-loading by shippers to avoid higher import tariffs at the end of last year," the analyst said.
Worst hit has been the main US west coast gateways – October saw Los Angeles, Long Beach and Oakland post a combined year-on-year throughput decline of 12%, with laden import boxes falling by 13.2%.
Meanwhile, overall transpacific volumes in the first 10 months of this year reached 13.15m teu, representing growth of just 0.2%, compared with the first 10 months of last year, and with the prospects for the final two months looking dim, the year-end total is likely to be lower than 2018.
However, not every carrier has suffered. According to Alphaliner data, while Cosco, MSC, Maersk and Hapag-Lloyd have all carried lower volumes in the first 10 months of the year, other carriers have seen their market share increase.
The main winner on the trade has been Evergreen, which has posted a 10.3% increase in liftings, to just over 1.5m teu, so far this year, while South Korean carrier SM Lines has managed to cement a nascent position in the market with growth of 10.4%, to around 250,000 teu.
Market leader Cosco (in combination with its Hong Kong subsidiary, OOCL), saw decline of 3.1%, while Maersk and MSC dropped 4.5% and 3.9%, respectively. Hapag-Lloyd saw volumes decline by 3.6%. Second-ranked CMA CGM and third-placed ONE saw marginal increases of 1% and 1.8%, respectively.
This represents a significant turn of events for ONE, the merged Japanese carrier, in particular – following its merger in April 2018, it lost significant market share after problems with the integration of the respective carriers' booking systems.