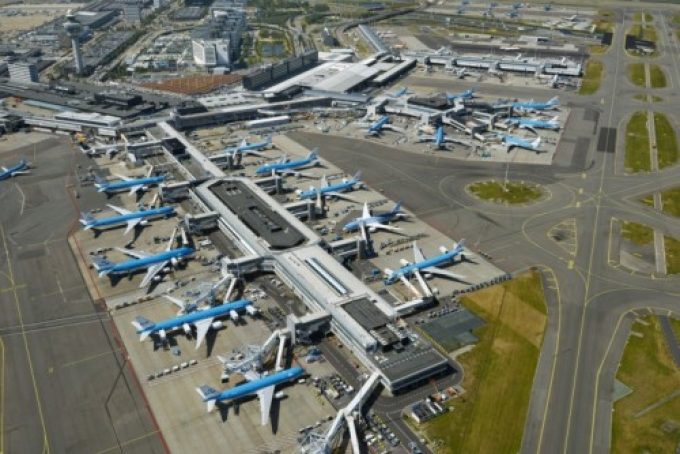 Freighter operators at Amsterdam Schiphol are set to lose up to 20% of their slots at the airport next month.
It's a major threat to logistics jobs in the Netherlands, as well as to the country's position and reputation as an enabler of trade.
According to an agreement made in 2008 between all airport stakeholders – including local government and residents as well as aviation –  the number of slots at the airport is capped at 500,000 a year until 2020.
Owing to recent significant growth, the airport has now reached that and has been forced to adopt restrictions, which are set to hit freighter operators the hardest.
Under IATA and EU rules, when slots are constrained, airports must implement the IATA 80:20 policy – any airline which has not flown 80% of its slots as scheduled, loses its right to them.
This legislation appears to have been formed without thought for the air cargo and freighter industry, which operates on a more ad hoc basis than passenger flights, and requires a more flexible schedule owing to cargo flows.
On average, according to the Dutch shippers' council, freighter operators managed to fly 70-80% of their slots as scheduled – not enough reliability to maintain slots under the new policy.
The main problem has been the huge growth of low-cost carriers operating at the airport. While the Netherlands is developing an airport specifically to cater for them, it is not set to open until 2019.
Carriers likely to be most affected include AirBridgeCargo (ABC), which operates 23 freighter flights a week into Schiphol and is the largest all-cargo operator in Amsterdam, Kalitta, Emirates, Singapore, Qatar, Korean, Nippon and Saudia, although it is not currently clear which have been unable to follow the 80:20 rule.
The airport has been steadily attracting Chinese carriers too, and China Southern, China Cargo Airlines, Air China and Yangtze River Express are thought to be among those at risk of slot reallocation.
Sergey Lazarev, general director of AirBridgeCargo Airlines told The Loadstar: "AirBridgeCargo Airlines has significantly contributed to the development of the cargo operations at Schiphol as well as to the Dutch economy. At the same time AirBridgeCargo Airlines has also invested a lot in operating a more environmentally friendly fleet.
"Leading Dutch exporting companies make use of the services and destinations offered by ABC and have expressed their readiness to grow further with us.
"The current slot discussion has, of course, our fullest attention, since we depend heavily on them to maintain our current schedule and, by doing so, to serve the Dutch tradelanes and economy. We are aware of the situation with slots based on different rumours but until now we haven't received any formal notifications regarding any changes. So we do expect confirmation of our current slots by September 15.
"In the case of any rumours being confirmed, ABC, together with our customers, will of course look for alternatives, and they will be outside the Netherlands."
One of the main concerns for the logistics community in the Netherlands is jobs. Full freighter operations account for just 3.5% of the traffic at Schiphol, but air cargo is thought to contribute to some 70,000 jobs, including handlers and forwarders.
One air freight manager said: "This is bad news for handling companies at Schiphol, they will need to increase rates to survive, and it's also bad for local shippers and consignees and local forwarder gateways.
"This will cost a substantial amount of jobs around Schiphol."
The air cargo industry is naturally concerned.
"It seems really serious," said one air cargo executive. "Quite a few freighter carriers are affected."
There is also a strong perception among air cargo players that this is a protectionist move by the Dutch government to benefit AF-KLM, adding to the anger already felt.
One executive told The Loadstar: "This has a huge stink of protectionism in the Dutch market, that was built up based on logistics."
Another said: "Clearly, KLM is benefiting from this application of this 80:20 rule. It is sad since KLM is the one that did not make cargo work at Schiphol and was even able to let its crown jewel, Martinair, go under.
"But the Netherlands needs a prime cargo gateway as a transit and logistics country. To have one freighter frequency pushed out by one narrowbody passenger frequency looks like bad business overall."
A selectivity policy formed by Schiphol's stakeholders does indeed put Air France KLM and its alliance partners at the top position of five categories of airlines. Freighters occupy the fourth most important place, followed by low-cost carriers flying to leisure destinations.
But, according to Joost van Doesburg, formerly of the Dutch shippers's council EVO and now representing Dutch pilots, the selectivity policy has never been implemented before – the current changes are entirely formed from the EC policy of "use it or lose it", which until now has never been needed.
"Full freighters aren't offering the same type of regularity as other airlines, so the EU legislation kicks in," said Mr van Doesburg. "It doesn't matter where they are on the selectivity level. That is a separate discussion. They did not comply with slot legislation. They neglected to fly at least 80% of their slots as scheduled – and now there is a shortage, their slots will go."
He added that the selectivity levels were under discussion for the future, but had no bearing on today's problems – although he did argue that there could be a reason to maintain AF-KLM's position at the top: "Every airport has a home carrier which delivers a lot of jobs locally."
EVO, Air Cargo Netherlands and the forwarders' association have begun to lobby the government to make an exception for freighter operators, but any exception could be challenged under EU laws.
"Everywhere you go, you run into a wall," said Rogier Spoel, EVO policy adviser. "We want to minimise damage and protect freight more strongly."
Hauliers and airports, such as Luxembourg, Liege, Frankfurt and Brussels, are set to benefit. But Mr Spoel pointed out that the key flower trade could suffer, despite other airports being available. "It will take too long to truck flowers to the auction in Amsterdam and could ruin them. "
He added that shippers were very concerned about the situation. "But they don't yet know how operations will be affected and which destinations will go."
He also noted that some members, with distribution centres in the UK and the Netherlands, had decided to put more focus onto Amsterdam owing to Brexit, but were now running out of options.
The decision on slots for the winter schedule will be made on September 16.
IATA said in a statement: "The Worldwide Slots Guidelines (WSG) are the global standard for managing congestion at slot-constrained airports. They are based on the principles of transparency, consistency and fairness, allowing a balance of historic use, with access to new operators, and incentives for ensuring reliable use of scarce capacity. The 80/20 rule is an important element of the WSG which is proven to work effectively and is accepted worldwide as a benchmark. The best way to alleviate the problems caused by slot constraints is not to find ways around the WSG, but to ensure more capacity is brought into the airport system, through timely consultation with airlines. This is a Europe-wide problem, as more than 100 of the 177 capacity-constrained airports worldwide are in Europe and with passenger numbers set to jump by 50% in the next 20 years, the capacity-crunch is reaching crisis levels."