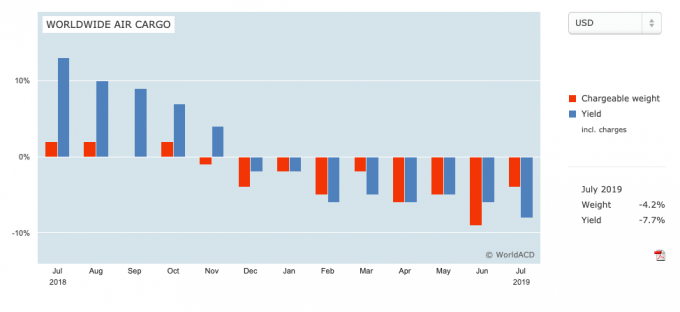 It's been a summer of poor headlines in air cargo. Cathay Pacific – before its current, Hong Kong-related problems began – saw first-half cargo revenues fall 11.4% year-on-year, with yields down nearly 3% and volumes down nearly 5%. 
Volga-Dnepr Group is looking to reorganise, following a volume decline of 6% for the first half – some 20% below its original forecast. The management purge is underway. 
Air Canada Cargo is looking for new revenue streams, with its first half Asian revenues down more than 20%. IAG Cargo saw Q2 revenues down 3.2%. 
It's a steady drip of miserable news for airlines – and forwarders. 
What's more: no one expects there to be much of a peak recovery. Air Canada's cargo chief Tim Strauss predicts just a brief peak, driven by one or two products. 
But while the world burns – literally and metaphorically – the parameters of 'normal' have changed. As WorldACD put it yesterday, "things are not getting worse".
A mere 4.3% year-on-year drop in July "marked quite an improvement" from June's 8.9% fall in kilograms. 
"When it comes to year-on-year comparisons for the first seven months of this dismal year for air cargo, July 2019 distinguished itself in a relatively positive way. The month showed one of the smaller year-on-year decreases since January, when the world still looked reasonably OK." 
However, it then goes to point out that there were five Sundays in June, compared with four a year earlier, negatively influencing June's year-on-year figures. 
But it warns that now consumer goods are facing tariff increases, August's figures "may well take an even deeper dive than shown so far".  
Drewry is more upbeat, noting this morning in its East-West Airfreight Price Index that July was 0.3 points up on a year earlier, with average all-in airfreight rates rising to $2.56/kg from $2.53 a month earlier, and predicting a further rise in August. 
But hopes of a recovery seem far from certain. As one air cargo research analyst told The Loadstar today, "on the routes where we see load factors improve, it is mainly caused by a reduction in capacity, and to a lesser extent by an increase in actual volumes.  
"We cannot see clear improvements yet." 
The saving grace could be special products – and specific markets. WorldACD reveals that special products saw year-on-year volume growth of 3.5%, against a fall of 7.4% for general cargo. It also points to "widely divergent" performances on different trade lanes. 
Noting that Asia Pacific and Europe have been the biggest losers this year, it adds: "So far this year year-on-year revenues (in USD) showed the following pattern: Africa +1.3% but South Africa -5.4%, Latin America -0.9% but Brazil -18.1%, Europe –14.8% but Germany –22.5%, Middle East and South Asia -4.8% but Bangladesh -25.5%."  
And it notes that the China-US trade war does "not bode well for world trade in the short term". 
Welcome back to what promises to be an interesting – if tough – final four months.