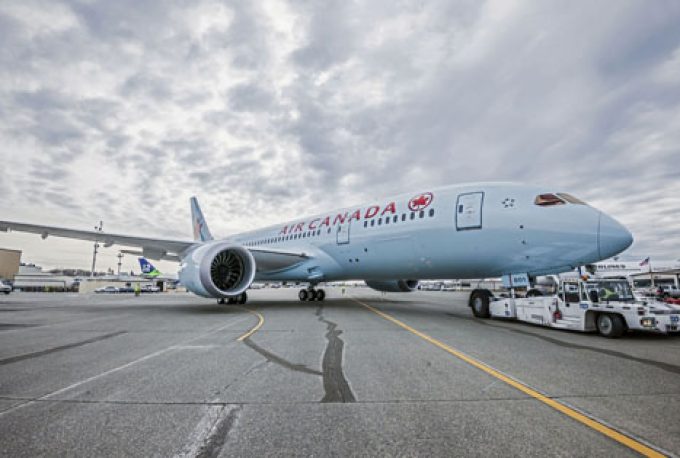 Air Canada is thinking outside the box: Tim Strauss, vice-president of cargo, wants to double his division's revenues through new channels to insulate the business better against the gyrations of the general freight market.
The past 12 months have been a rollercoaster for Air Canada Cargo. The carrier ended 2018 with cargo revenues of C$803m (US$604.7m), up from C$708m the year before.
However, 2019 has brought a sharp downturn. After a strong January and a flat February, the carrier's momentum went into reverse in March, and the pain increased as the months went on.
For the second quarter, AC Cargo reported revenues of C$177m, down 12.1%, while cargo traffic declined 7%. This brought the tally for the first six months of the year to C$354m, down from C$368m in the first half of 2018.
The main culprit was the sharp deterioration of the Asian market, where AC's revenues dropped an eye watering 21.1%.
According to Mr Strauss, the malaise cuts across the Asian markets: "There are no good ones. Some are less bad, like Japan. Korea is doing poorly, just like China."
Given the higher rates Asian exports generate, compared with shipments originating in North America or Europe, the Asian slump had a disproportionate impact on the bottom line, he explained.
"To make up for it, you'd have to grow 20% in other regions, which was impossible," he added.
Forwarders have reported steep rate declines out of Asia, as airlines aggressively chase freight to fill their flights. Inevitably this has sent yields spiralling downwards.
AC Cargo fared better in other regions. Revenues out of Europe were down in the quarter, but the carrier registered gains in the US as well as in its domestic market, with income growing 30% and 20.8% respectively. Latin America, which had shown strong growth, was flat.
In light of the signals out of Asia, Mr Strauss is not holding his breath for the upcoming peak season.
"I think there will be a peak, but it will be driven by a couple of products, and it will be brief," he said.
He is looking to reduce AC's exposure to the demand and rate fluctuations of the general cargo market.
"We need to diversify and get out of this dependency on general cargo," he said. "You can't do it entirely, but you can broaden your range.
"We're moving forward on e-commerce," he said, adding that AC was probably a year from a launch in that segment.
"Our pharma business is up considerably. The perishables business is solid," he noted.
And then there is the drone business. In June, AC signed a sales agency agreement to market the routes and capacity of Drone Delivery Canada (DDC), an Ontario-based drone operator poised to embark on commercial operations.
"We're moving forward with the partnership on drones," Mr Strauss said, adding that he is looking to generate a lot more revenue from such ventures.
"We were an C$800m business last year. In five to eight years we want to add another 800 million in a diversified business," he said.