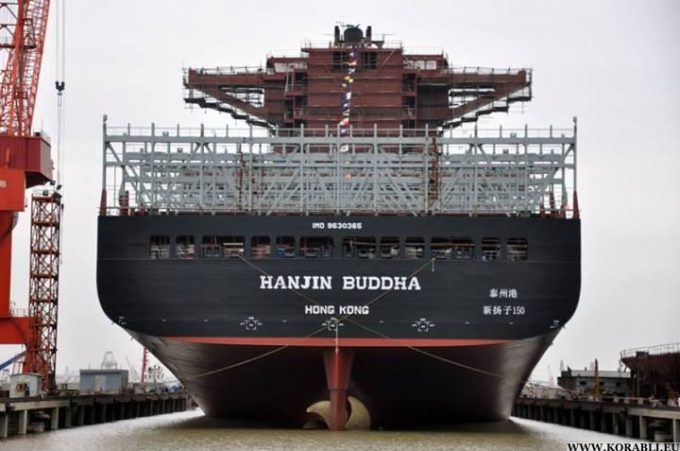 Unloading operations have begun on some Hanjin vessels after the line finally began to update shippers and forwarders on where its vessels actually are.
A fleet update issued by the carrier this morning shows the vast majority of its vessels still "waiting in open sea" for instructions from headquarters.
So far six vessels are confirmed to have been arrested – the Hanjin Baltimore at Panama, with the Panama Canal "impassable" to the line; Hanjin Vienna in Vancouver; Hanjin California in Sydney; Hanjin Rome, as widely reported, in Singapore; and Hanjin Rotterdam in Yantian; and Hanjin Sooho in Shanghai; while the Hanjin Montevideo has been arrested by its bunker supplier in Long Beach, California.
Another seven vessels are at port under embargo and three more – Sky Pride, Sky Love and Pacita – have been returned to their owners.
Ten vessels are waiting off the coast of China and two off Japan; a further 12 are waiting off South Korea, two of which – Hanjin Chongqing and Asian Trader – have now run out of fuel and are waiting for bunker supplies. Another nine vessels are underway to Pusan, where they won't run the risk of arrest.
The Hanjin Europe is under embargo in Hamburg, with Hanjin Harmony waiting in the North Sea, while five vessels wait in the Mediterranean. Two of the latter were refused entry to the Suez Canal and now face circumventing the Cape of Good Hope on their journey to Asia.
There are nine vessels waiting in the waters of South-east Asia, the Indian Ocean and around Australia, and a further three in the Arabian Gulf.
In the US, Hanjin Greece began unloading at a Long Beach terminal, while five vessels wait off the coast, with reports that one, the Hanjin Gdynia, will dock this week.
The berthing of the Hanjin Greece followed a US court order on Friday extending Hanjin's provisional protection from creditors, and some $10m has reportedly been raised by Hanjin to pay terminal handling charges for the two vessels, as well as Hanjin Jungil and Hanjin Boston, also waiting to berth at Long Beach and Los Angeles respectively.
Korean Air, Hanjin's biggest shareholder, has said it will provide Won60bn ($54m) in funding to the embattled carrier so it can unload cargo. The airline, however, said it would only do so if Hanjin puts up its stake in a terminal at Port of Long Beach as collateral, reported Bloomberg.
Meanwhile, container lessors were this week also beginning to count the cost of the bankruptcy. CAI International told investors it currently has 15,000 units leased to Hanjin, which amounts to around $40m in terms of the assets' book value.
It said: "Based on our experience, we believe that most of our containers will be recovered. Our units on lease to Hanjin were manufactured in our colour, with our logo and markings, which should assist with recovery and re-leasing efforts.
"At this point, while we are unable to definitively estimate the total impact of Hanjin's bankruptcy filing on our financial results, we believe our exposure will be limited to $2.6m of accounts receivable related to income recognised prior to the third quarter of 2016, which is not insured and may not be recovered, and up to the $2m deductible on our insolvency insurance policy."