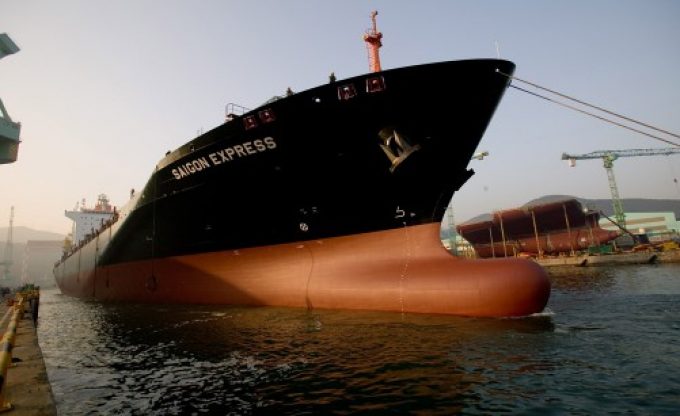 Containership owner Seaspan Corporation does not rule out acquiring a smaller non-operating rival owner, but says its main focus is on "deleveraging the balance sheet and moving towards investment grade".
In June, Fairfax Financial Holdings pledged a further $500m investment in Seaspan bringing its stake in the NYSE-listed company to $1bn.
Speculation has been rife that Seaspan was compiling a war chest for the acquisition of one of its weaker rivals.
But in its second-quarter earnings call yesterday, the containership lessor's executives refused to comment on takeover speculation, other than that it had been approached by "half a dozen companies willing to sell their portfolios".
In the second quarter, Seaspan's revenue from charter hire jumped to $282m, from $205m in the same period of 2017, although this was largely due to the addition of 16 vessels previously operated by affiliate GCI, now under its full ownership.
Net profit for the quarter came in at $68m, compared with $28m in the second quarter last year.
"I am pleased with our strong operating results for the second quarter," said Bing Chen, president and chief executive, adding that Seaspan's fleet had also been boosted by the arrival of four newbuild 10,000 teu vessels that had immediately been taken on long-term charter by CMA CGM on a fixed rate basis.
Seaspan operates a fleet of 112 containerships, chartered out to ocean carriers including Cosco, CMA CGM, OOCL, Hapag-Lloyd, Yang Ming, MOL, Zim and K Line.
However, around one-third of its smaller ships are on short-term charters or play the spot market.
According to vesselsvalue.com, the current asset value of the fleet is $4.6bn, with a scrap value of $1.5bn.
On the recent decline in the charter market, which is partly seasonal and partly due to carriers cutting back on non-profitable routes, Mr Bing said that although rates had "flattened out" in the past month – after a surge in the first half  – all Seaspan's ships were employed.
Neither did Mr Bing appear overly worried about the threat posed by the escalating US-China trade war, noting that not that many Seaspan ships were trading on the transpacific, likely to be the main route impacted.
And Peter Curtis, executive VP and chief commercial and technical officer, said Seaspan had begun talks with all clients on their requirements regarding the IMO 2020 low-sulphur regulations.
"It's somewhat like a rainbow," said Mr Curtis, describing the differing strategies of ocean carriers towards complying with the 0.5% sulphur cap that comes into force on 1 January 2020.
"It depends which liner major we talk to. One large customer said compliant fuels was the way to go, while others are discussing the application of scrubbers, even down to some technical details.
"We have no deep insights to the contracts our customers have on fuel, so our discussions have to revolve around the investment into scrubbers," he added.
MSC has come out strongly in favour of scrubber technology, while 2M partner Maersk said these exhaust gas cleaning systems that allow vessels to burn cheaper high-sulphur fuel was "not the answer".
According to Splash247, MSC has signed a framework finance agreement with French bank BNP Paribas and the China's Export & Credit Insurance Corporation for a number of Chinese shipyards to retrofit scrubber systems to its containership fleet in what is rumoured to be the largest scrubber deal to date.