The growth in sea freight during the first half of the year is expected to taper off – but confidence remains high in the air sector.
Following a prosperous start to the year, the market is predicting a "significant decline" in sea freight volume growth, according to Transport Intelligence's Logistics Confidence Indices.
The Sea Freight index reached an overall score of 52.9, falling two points from June, although five points higher year-on-year; the Situation index fell 0.5 points from June, to 51.3; and the Expectations index fell 3.6 points from June, to 54.4 points.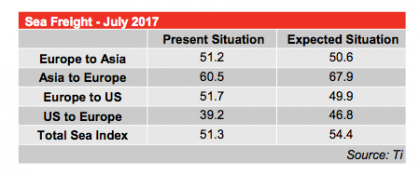 In air freight, respondents remained buoyant as its index fell just 0.3 points from June to 56.6, while the Expectations index rose 1.1 points to a heady 59.8, its highest point in a year.

The decline in sea freight pulled down overall numbers.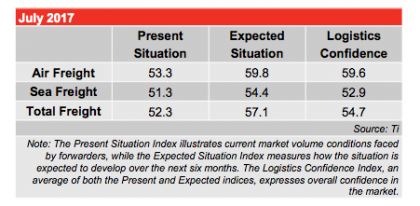 In sea freight, expectations by tradelane saw declines across the board except Asia-Europe, which grew 1.1 points to 67.9.
In air, Asia-Europe fell 3.4 points to 66.7, while Europe-Asia fell 1.5 to 58.3. Air had renewed confidence in the transatlantic trade, with the index rising more than 5 points between Europe and the US, both ways.
You can see the full results of the analysis here.