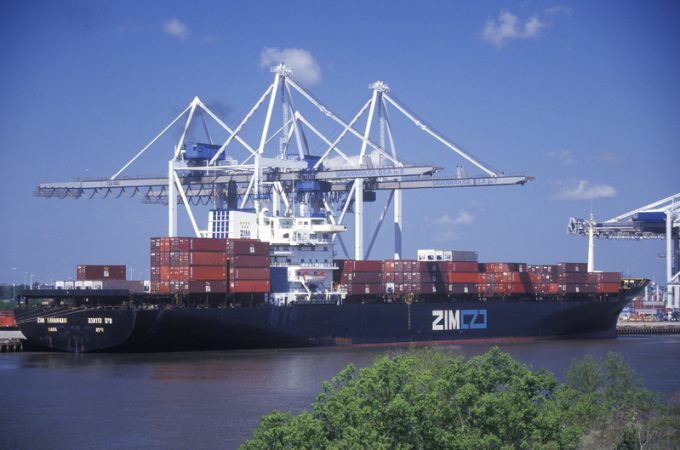 Georgia Ports Authority (GPA) has shifted up a gear in its efforts to boost capacity.
Prompted by delays at Savannah, the authority has added $100m to its capital expenditure budget, bringing its spend on capacity expansion this year to $205m.
By the end of the year, GPA wants capacity to handle an additional 650,000 teu a year, an increase of 20% at Savannah.
The expansion is needed because of a surge in throughput that is expected to continue, said GPA chairman Will McKnight, and according to CEO Griff Lynch, Savannah has been handling volumes not expected until 2025.
The port has struggled with congestion, the pressure from increased volumes exacerbated by weather conditions. At the end of February, 23 vessels were anchored outside Savannah after fog shut down traffic for 109 hours during the month, which reduced operational time by about 16%.
As the congestion continued, it prompted Maersk and Zim to juggle the sequence of US ports on the new 2M service from Asia to the east coast that will start in May. It uses eight Maersk ships and two from Zim, and will run from Vung Tau, via Yangtian, through the Panama Canal to Savannah, Charleston and Newark.
But Maersk announced on 31 March: "Due to congestion in Savannah, the rotation will initially, and until further notice, swap the US calls to go Charleston/Savannah/Newark."
Tom Boyd, regional communications manager of Maersk North America, said it was too early to say if customers were shifting traffic to Charleston as a result.
Over the past year, Maersk has stepped up its capacity serving the US east coast from Asia by upgrading vessel capacity and using extra loaders. Narin Phol, MD of Maersk North America, said US importers were looking for more options through east coast gateways, while exporters were looking for more equipment, especially in the south-eastern US.
The ongoing congestion at the US west coast gateways has been one factor behind the heightened interest in container services from Asia to the east coast. Jared Crane, regional vice-president east coast region, at Crane Worldwide Logistics, said clients re-routed shipments to east coast gateways by longhaul truck or rail, as far as the west coast.
Pricing developments reflect a heightened focus on Asia-US east coast routes. According to Freightos, on 17 March it reported that rates from China to the west coast had dropped 5%, whereas pricing on the China-US east coast sector had risen by 6%.
Freightos research lead Judah Levine noted reports that it was getting easier to find capacity from China to the US.
"Some of this easing may be due to importers shifting orders from LA/LB to other ports, just as carriers are adding new Asia-US east coast services too," he said.
He added that spot rates also indicated this trend; they were down 13% from their February peak to the west coast but only 5% lower in the China-east coast lanes.
GPA projects Savannah's throughput, in the current fiscal year to 30 June, to reach 5.2m teu, up from 4.4m teu in the past fiscal year. Its latest round of funding is for the construction of 2,100 container slots at the port's Garden City terminal and the purchase of 20 new rubber-tyred gantry cranes that will allow operators to stack containers six high instead of five.
This is in addition to several other expansion projects and, looking ahead, GPA has applied for a green light to add another 800,000 teu of capacity for completion in 2023.
Meanwhile, other ports are also ramping up capacity. Charleston is dredging its harbour to 52ft depth and nearing completion of the first phase of the construction of the Hugh K Leatherman terminal this month, which is designed to handle 20,000 teu vessels. The first phase adds capacity for 700,000 teu towards the total expansion target of 2.4m.
And Gulf coast ports are moving aggressively to draw in more ultra-large container vessel traffic. The port of Houston, which commands about 70% of the region's container throughput, is widening the ship channel to be able to accommodate two 14,000 teu vessels simultaneously. It has allocated $293m for capital investments in the current fiscal year, nearly double that spent in the previous year. Much of the money is going to the improvement of the port's Bayport and Barbour's Cut container terminals.
New Orleans is gunning for capability to handle vessels up to 16,000 teu. In September, dredging the Mississippi ship channel to 50ft got under way, and the port authority aims to open a 2m teu container facility in 2027.