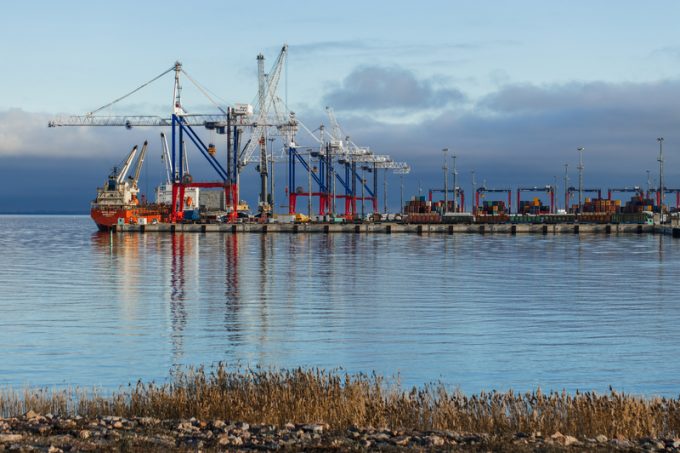 The Russian government appears set to take control of one of St Petersburg's privately owned container terminals following a long-running turf war.
Tomorrow, a Moscow district court will examine a confiscation claim filed in April by the Prosecutor-General's office against St Petersburg's outer harbour of Bronka.
Allegedly, Dmitry Mikhalchenko, once St Petersburg's most influential businessman, used corrupt methods to win government contracts, worth Rb33bn ($446m), to carry out numerous business projects, including construction of the Bronka marine terminal from 2011 to 2015.
The Prosecutor-General's office claims Mr Mikhalchenko exploited close ties with high-powered law enforcement officials to siphon off Rb18.5bn of state funds.
It further claims that Mr Mikhalchenko and his ally, then lieutenant general of the Federal Security Service (FSB) Dmitry Negodov, used public assets to finance a private business empire – the so-called Forum holding company – and cash out the money.
It adds that, being unable to fund the Bronka project from their own "honest means", the two managed to invest Rb13.3bn in Fenix, Bronka's master developer and operator. In 2014, Mr Mikhalchenko and Mr Negodov received $80m from Latvia's lender Trasta Кomercbanka, having previously transferred $85m to an offshore company registered in the Virgin Islands.
In March 2016, the FSB arrested Mr Mikhalchenko just a few months after the launch of Bronka's phase one. The multibillionaire was accused of being the brains behind a smuggling gang that imported premium brandies, whiskies and wines worth around €600,000 from the EU to Russia on forged documents and evading customs duties.
The arrest raised many questions, given the disparity between Mr Mikhalchenko's status and the accusations, and it was rumoured that the charges of alcohol trafficking and embezzlement were merely a pretext for the 'redistribution' of his business empire.
At the same time, Mr Mikhalchenko lost the protection of another partner, Yevgeny Murov, a general and former head of the Federal Safeguard Service (FSO), who left his post after 16 years.
To conceal the funds following Mr Mikhalchenko's arrest, Mr Negodov and Mr Murov allegedly signed $180m of assets to Mr Murov's elderly wife and then consolidated them under the Bronka Group brand.
As a result of the alleged illegal capitalisation of Fenix and construction of Bronka, the Prosecutor-General's office wants the company handed over to the state.
Fenix owns and operates the outport's land (almost 120 ha) and infrastructure, including the deepwater container and ro-ro terminals capable of accommodating 347-metre long vessels with a draught of 13 metres.
The St Petersburg authorities have so far distrained around Rb17.5bn of the group's assets and, to retrieve the Rb33bn of governmental contracts the court may rule that the entire property should be sold.
However, local observers have suggested this year's developments are merely the latest in line of events that have seen the Kremlin using the courts to increase its power in the port.
In December 2016, the FSB detained Valery Izraylit, chairman of the Ust-Luga Company, the developer of Ust-Luga Port, another key container gateway on Russia's Baltic coast. Mr Izraylit was charged with embezzling Rb1.5bn allocated to the port, despite his being widely credited with ensuring that the port was built to the highest European standards.
VTB, one of Russia's largest banks, filed a bankruptcy claim against Ust-Luga, despite the fact the parties had previously reached a settlement agreement.
Then, in March 2018, Ziyavudin Magomedov, owner of Summa, one of Russia's leading transport and logistics groups at the time, was with his partners arrested and charged with "fraud, racketeering and embezzlement of state funds".
Subsequently, Russia's Prosecutor-General, Yury Chayka, said the main reason behind Mr Magomedov's arrest was his conflict with a Russian-born Belgian businessman Michel Litvak, who was preparing to invest billions into Russia's Black Sea port of Taman. Mr Magomedov allegedly interfered and intrigued against Mr Litvak because he wanted the project for himself.
While all these cases seem to be purely business ones, dark political undertones are hard to ignore – in today's Russia, powerful industrialists and entrepreneurs cannot be detained without an order from the highest offices.
Russian lawyer Yevgeny Tonkov claimed the Kremlin's routine practice of "property redistribution" is to pressurise a detainee into selling his key assets. If he agrees he will have a chance to get out of jail – currently Mr Mikhalchenko, Mr Izraylit and Mr Magomedov all remain behind bars.