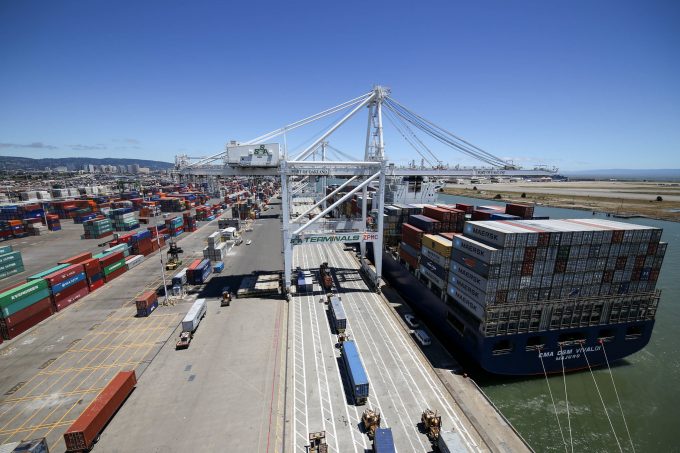 The US port of Oakland is moving to facilitate agriculture exports as it pushes for more transpacific sailings.
It intends to set up a dedicated container yard for this traffic, flanked by support from federal and state agencies to ease flows through the port.
"The goal is to provide relief to agricultural exporters facing shortages of export capacity and skyrocketing logistics costs," said the port.
Arguably, the most critical element is the effort to persuade shipping lines to restore or launch transpacific services.
"We need the shipping companies to immediately restore export lines from Oakland to South-east Asia and the Indian subcontinent," said Bryan Brandes, the port's maritime director.
US agriculture exporters have struggled over the past year to find capacity to ship their traffic overseas. Last summer the Agriculture Transportation Coalition estimated that, on average, 22% of US agriculture foreign sales could not be completed as a result of limited capacity, high shipping rates and excessive demurrage and detention charges.
Agriculture exporters were among the most vocal US shippers accusing ocean carriers of rushing empty containers to Asia, so they could take advantage of the higher rates, rather than load their exports
Oakland's agriculture exports last year were certainly hobbled by a lack of vessel capacity. Some transpacific services were suspended and congestion at the port complex of Los Angeles and Long Beach prompted carriers to steam straight back to Asia as soon as their vessels had discharged their containers, skipping scheduled calls at Oakland.
According to the Western Agricultural Processors Association, this left agricultural exports stranded at the port and turned them into "collateral damage" in the supply chain disruption. And in October, Oakland's containerised imports were down 14% year on year, while exports dropped 27%.
Being the final US port of call for a number of transpacific container services meant Oakland was a major port for US exports to Asia, especially perishables. The port describes itself as the "preferred export gateway for much of California's agricultural exporters and for refrigerated proteins".
California accounts for over one-third of US vegetable production and two-thirds of the nation's output of fruit and nuts, and in 2019 the state exported $21.6bn worth of agricultural goods.
Now the port has worked with the shipping community and state government officials, and the outcome of these consultations (besides the push for vessel services) is a decision to set up a paved 25-acre yard, located away from the terminal, to cater just for agriculture shipments.
Designed and equipped to move containers off chassis and store them for rapid pick-up, the yard will provide access to equipment and provide faster truck turns without having to wait for space at the terminal, explained the port. Federal and state agricultural agencies would assist flows through the yard, it added.
The discussions that led to the initiative also involved John Porcari, the White House's port envoy. They focused on short-term solutions as well as longer-term strategies. For the latter, the port identified three key elements: asset management (which includes availability of containers and chassis); operations, including off-dock container yards and inland ports; and increased investment in critical port infrastructure.
On 22 December, the US Department of Transportation allocated $57.5m in grants for improvements at the ports of Oakland and Long Beach to help address supply chain problems.