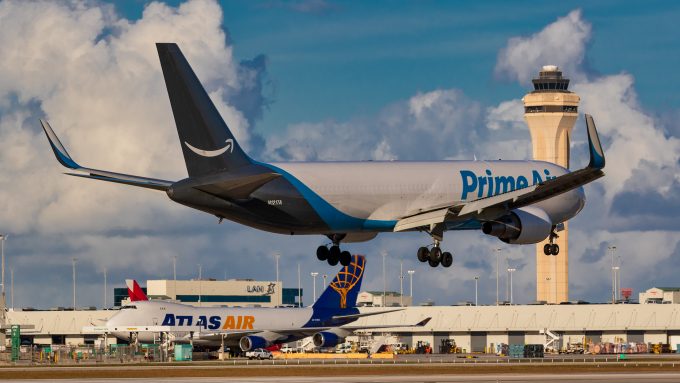 Amazon Air supplier Atlas Air has won a court ruling to prevent its pilots from interfering with its operations.
The court appeal ruling prevents its pilots from taking part in strikes, sickouts or work slowdowns.
The carrier provided evidence that the Teamsters Local 1224 union had encouraged a slowdown or pilots to call in sick at short notice, as a negotiating tactic.
In a unanimous ruling, the US Court of Appeals for the District of Columbia ordered they are not allowed to do this and the union must continue to take action to prevent, and refrain from, any form of interference with Atlas Air's operations.
Bill Flynn, outgoing chief executive of Atlas, said he was "very satisfied" with the ruling.
"It is unfortunate that we were compelled to take this extraordinary step, but we needed to do so to protect the best interests of our customers, our employees and our company. Together with our pilots, we remain focused on continuing to provide our customers the high level of service they have come to expect.
"We value the hard work and dedication of our pilots, and look forward to continuing negotiations for a joint collective bargaining agreement in connection with our merger of Atlas Air and Southern Air. We are committed to negotiating an updated agreement that reflects the current market and the significant role our pilots play in the success of our company."
However, the pilots are calling for a new hearing. Edward Gleason, the attorney representing Teamsters Local 1224, said: "We are both surprised and deeply disappointed by the court's decision.  The court has affirmed a status quo injunction without ever identifying the status quo that the union is said to have violated. That is the same fundamental mistake that the district court made, and it is one that we believe warrants reconsideration and reversal by the court.
"We therefore fully anticipate filing a petition for rehearing along with a petition for rehearing en banc."
Last month, Atlas subsidiary Southern Air also won an arbitration over its pilots. The decision ordered the union to proceed with contractually required negotiations for a new joint collective bargaining agreement.  
While union leaders argued that the company had delayed negotiations, the decision noted: "We can conclude with some certainty, however, that there has been a delay inspired by the union's misapprehension of the contractual requirements and that they must now respond vigorously to the company's request to proceed."  
Meanwhile at ATSG, last month subsidiary ABX Air, which has a shortage of 767 crews, created a programme with Air Cargo Carriers whereby crew can progress at ABX. 
Air Cargo Carriers crew who serve as pilot-in-command for at least two years and who have at least 1,000 hours of flying time in this role, "can bypass the interview process and obtain a training class opportunity at ABX Air, contingent on their passing the required background checks", said the airlines in a joint statement. 
Air Cargo Carriers claims to be the largest commercial owner and operator of Shorts aircraft in the world.  
"The two airlines share a similar customer base and operate out of similar airports, including Cincinnati International Airport," the statement added.