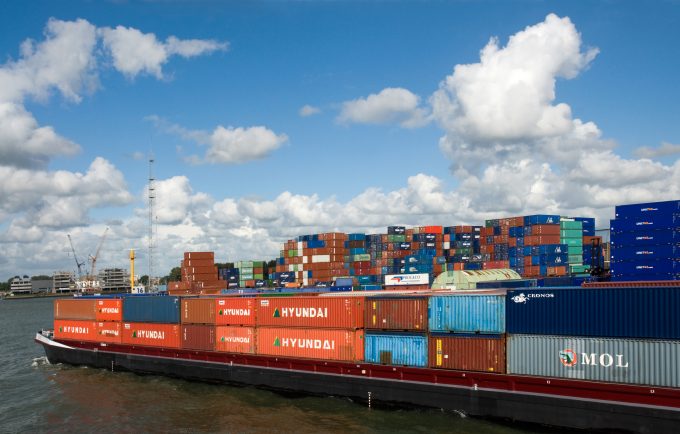 Delays and congestion for barge and feeder services may have reduced at Rotterdam in the past week, but at Antwerp things are worsening now the peak season is underway.
On Friday, barge operator Contargo said waiting times at the port of Rotterdam had reduced to 48 hours, from a maximum of 144 hours just three days earlier, but operators were still having to wait at least 12 hours.
But at Antwerp, the minimum wait is now 24 hours – double that reported in the previous update – and operators can face a delay of anything up to 72 hours.
A spokesperson for Rotterdam-based terminal operator ECT told The Loadstar it had "always had manageable" service times for barges.
"There are peak moments resulting from concentration of demand, but we have taken measures to match capacity with the increase in demand," said the spokesperson. "Therefore, during these peaks service times for barges could be higher, but never for a long period."
A source in Rotterdam told The Loadstar the situation at the Dutch port had "loosened a little" in recent days, but refused to be drawn on speculation surrounding the impact of the peak season.
The easing of congestion at Rotterdam led Hapag-Lloyd to withdraw a surcharge imposed on feeder services several weeks earlier, but the carrier said charges were still applicable to barge operations.
Hapag-Lloyd imposed the €25 charge in the wake of Contargo issuing a €19.50 surcharge per container, although this just affected barge operators.
Similarly, BTB – which had been in discussions with Antwerp's port authority – applied a €15 per full container fee on twice-weekly sailings between Born and Rotterdam, and Born and Antwerp.
BTB said it had chartered extra barges and been handling 24/7, and that prior to imposing the charge it had absorbed all additional costs.
"But we can't afford this anymore," it said. "This surcharge doesn't cover all costs resulting from the delays and doesn't guarantee a better handling of import and export containers. It only distributes the negative consequences which cannot be carried by just one party in the supply chain.
"We regret this decision, we are forced to take this measure for the continuity of our services and hope the situation returns to normal as soon as possible."
Danser also applied a €25 per teu fee on Upper Rhine shipments, €7.50 on those between Antwerp and Rotterdam and intra-port services have been subject to a €5.50 fee.
Delays at Rotterdam were first reported in June following a cyber-attack, with the situation having worsened over the last two months. Simil;ar problems arose at Antwerp several days later. Its port authority formed an action committee to tackle the problem, but its findings are not expected before October.
Shipping consultant SeasC4U owner Gunther Ginckels told The Loadstar a fragmented barge industry at the mercy of inland terminal operators was to blame for the delays at the ports.
"You are seeing situations where 30% (at Rotterdam) or 40% (Antwerp) of barges are arriving with 60-75 containers for deepsea terminals, despite having a capacity of 200-300 teu" said Mr Ginckels.
"This is because of the fragmented nature of barge operations and because loading is focused on the needs of inland terminals not the discharge requirements of the ports."
Mr Ginckels said the problems could only be addressed through the imposition of major cultural and structural changes.