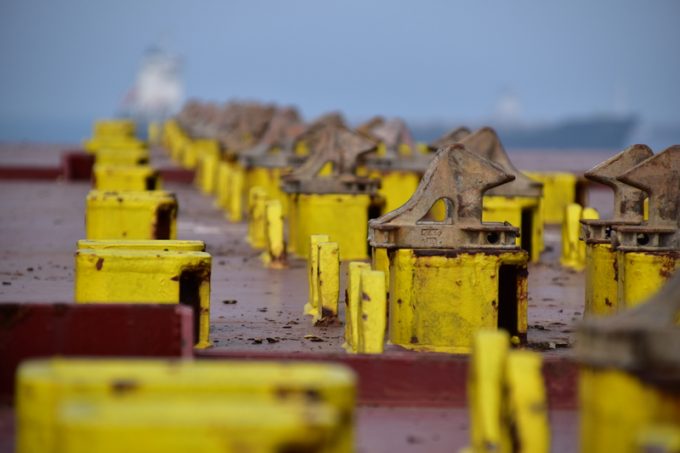 The International Transport Workers' Federation (ITF) attempts to force ships to use dockers for container lashing, which violates EU competition law, claims a Benelux law firm.
AKD, representing six European shortsea and feeder ship operators, has filed an official complaint to the European Commission.
Via the law firm, the operators have called on the EC's competition commission to launch an official investigation into the ITF and affiliated Dutch union FNV Bondgenoten and their campaign to compel operators to stand down seafarers from shipboard container lashing.
The complaint centres on the "Dockers' Clause", part of an agreement between the ITF and the Joint Negotiating Group (JNG) of maritime employers in 2018, which stipulates that lashing operations must be undertaken by ITF-affiliated unions.
If dockers from an ITF-affiliated union are not available, the clause says, lashing can be carried out by crew, subject to ITF permission.
It originally became part of the International Bargaining Forum (IBF) agreement between an International Maritime Employment Council (IMEC) negotiating group and the ITF in February 2018, and was extended to European and Canadian ports this year.
The agreement covers approximately 15,000 vessels worldwide and the six operators argue that the IMEC negotiating group did not act on their behalf "in agreeing to a change in long-established working practices".
AKD claims the clause infringes the EU cartel prohibition and restricts freedom to provide services.
Its complaint further notes: "Traditionally, seagoing container vessels of under 170 metres in length have been considered fit for self-handling when it comes to lashing.
"Seafarers are fully trained for the work, are most familiar with their ships and have a vested interest in maintaining safety. In exerting authority to give or withhold permission on who undertakes lashing, ITF seeks to restrict competition.
"Replacing a proven way of working with one that involves a separate request for manpower, which may not be available, will bring delays and add costs.
"Ships could also face the prospect of needing lashing gangs at multiple terminals in the same port for only small numbers of containers at each.
"For a shortsea sector facing cut-throat competition from truckers, even minor efficiency losses or delays can encourage shippers to shift business to more polluting road transport," an AKD statement added.
AKD lawyer Robbert Jaspers told The Loadstar he was unable to say who the six companies were.
Meanwhile, docker representatives deny the clause was about protecting dockers' jobs, but about protecting seafarers.
It is common knowledge in feeder circles that many crews are still doing the unlashing work on vessels as they approach berths, and the ITF has continued to push for a strict observance of the dockers's clause, citing the death of Ravindu Telge, the second officer on the Maersk Patras, who fell overboard last year while lashing was under way along the Saint Lawrence Seaway on the approach to the port of Montreal.
On the first anniversary of Mr Telge's death, Sylvain Charron, vice-president of Montreal local docker union CUPE 375, said: "This has always been about the seafarers. They have a hard-enough job already. In the winter, the weather can be -30 celsius.
"Lashing is a dangerous job. We know it is hard work. We don't think it is fair that Brother Telge should give his life to do work he should not be doing. We wish his family respect and hope that they will be able to find peace."