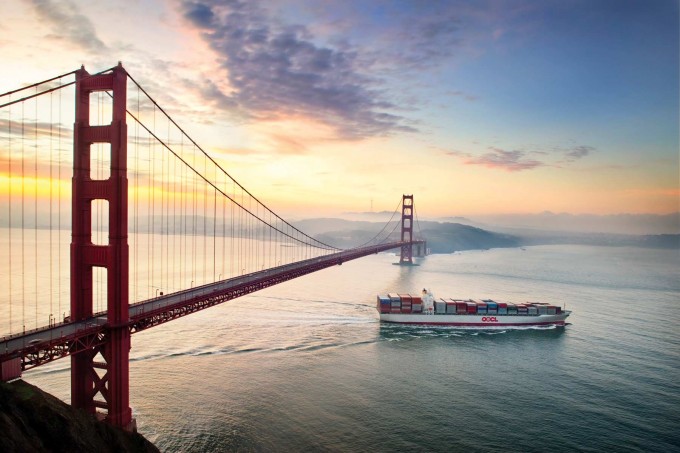 OOCL has announced that it will suspend its transpacific service out of central China.
The service, the CC1, which operates as part of the G6 alliance, will stop for six weeks, commencing with the arrival of the Hyundai Shanghai in Qingdao on 19 June.
No reason was given by the carrier for the suspension, but weak demand combined with excess capacity has driven freight rates down to rock-bottom levels on the route this year.
Indeed, container spot rates between Asia and the US west coast have slumped to their lowest levels on record, and last Friday were recorded on the Shanghai Containerized Freight Index (SCFI) at just $852 per 40ft.
According to Alphaliner, recent general rate increase (GRI) attempts by transpacific carriers have failed to lift rates from unsustainable levels and more capacity cuts are expected on the transpacific in the coming weeks.
The consultant said that after being "somewhat successful" in their efforts to push up Asia-North Europe rates, ocean carriers were now turning their attention to the transpacific, which is now in desperate need of a sustained rate recovery.
At the beginning of 2015, Asia-USWC spot rates were running at around $2,000 per 40ft, but a capacity increase of around 5% on the trade in part dragged rates down.
The launch of new services – one standalone by Hanjin and a joint CMA CGM-Evergreen service – added to the capacity hike in May.
Elsewhere, spot rates from Asia to the US east coast have suffered even more. At the beginning of 2015, rates had peaked at over $5,000 per 40ft  – partly due to west coast port congestion – but have now sunk to less than $1,700 from $2,500 at the start of this year.
The rapid deterioration of rates for US west coast ports prompted an embarrassing volte-face by CMA CGM last month, when it confirmed that after barely five months it was withdrawing its much-heralded 18,000 teu Benjamin Franklin class of ultra-large vessels from the transpacific run.
The French carrier's decision to introduce the ULCVs to the transpacific tradelane was described by one analyst at the time as "madness", given that rates had already been depressed on the route for some time.
Meanwhile, there are anecdotal reports that many annual service contract rates renewed in May were done at below $1,000 per 40ft, compared with the previous year's average of $1,600, adding further to carriers' woes.
OOCL's CC1 service called at Busan and Kwangyang in South Korea, Shanghai and Qingdao in China and at Oakland and Los Angeles on the US west coast.