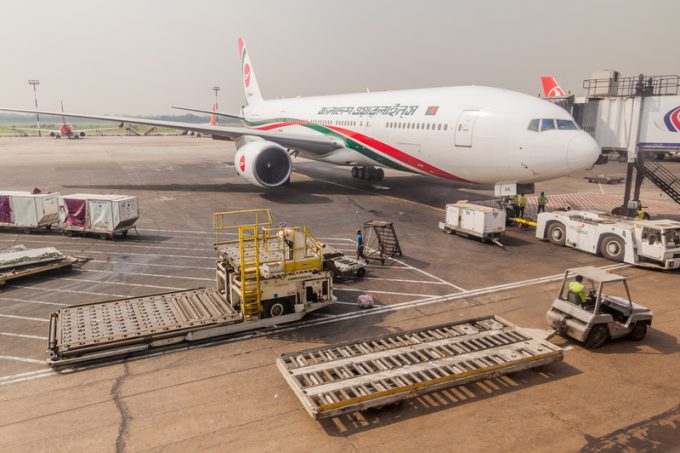 A capacity crunch, caused by the suspension of international passenger flights, has increased air freight rates out of Bangladesh by up to 30%, with a particular rise in Dhaka-US lanes.
As the Covid-19 situation worsened, Bangladesh's government enforced a 'hard-lockdown' on 14 April and, since then, all regular passenger flights have been suspended.
About 65% of all air freight out of Bangladesh is carried on on passenger aircraft, according to Kabir Ahmed, president of the Bangladesh Freight Forwarders' Association, and he says there are no daily freighter flights out of Dhaka – although there are some five-times-a week services.
Emirates had four passenger flights, carrying 80 tonnes of cargo a day, while Qatar Airlines offered 60 tonnes of capacity daily and Saudi Airlines 80 tonnes.
"All these flights have been suspended for a week, which has lowered cargo capacity by nearly 40%," said Mr Ahmed, pointing out that exporters are now dependent on freighters.
But, he added, there are very few freighters available on the right routes, adding to the dearth of capacity. Normally, cargo would transit the Middle East before going on to Europe and the US.
There is some relief, he said, as some chartered passenger flights were operating, mainly to ferry migrant workers to the Middle East, and would also carry cargo – but at a high price.
And the lack of capacity in air freight has been compounded by continued problems at sea, with the country still experiencing a severe shortage of inbound containers. Some 20,000-25,000 teu of Bangladesh-bound containers are stuck in regional transhipment ports in Singapore, Colombo and Port Klang.
MSC has nearly 12,500 teu stuck in Colombo, according to Ajmir Hossain Chowdhury, assistant general manager in Bangladesh. The boxes have been stranded there for nearly 30 days, he said, a backlog created by the withdrawal of two vessels by Far Shipping Lines, each with a capacity of 2,800 teu.
"Only the deployment of increased numbers of new vessels on the Chittagong-Colombo route can help reduce the backlog," he said.
Hapag-Lloyd also has several thousand boxes stuck in Colombo, following an absence of workers at the Sri Lankan port in November, and according to Shamsuddin Minar, vice president, Galaxy Bangladesh, the local agent of Hapag-Lloyd, berthing delays at Chittagong have added to the backlog.