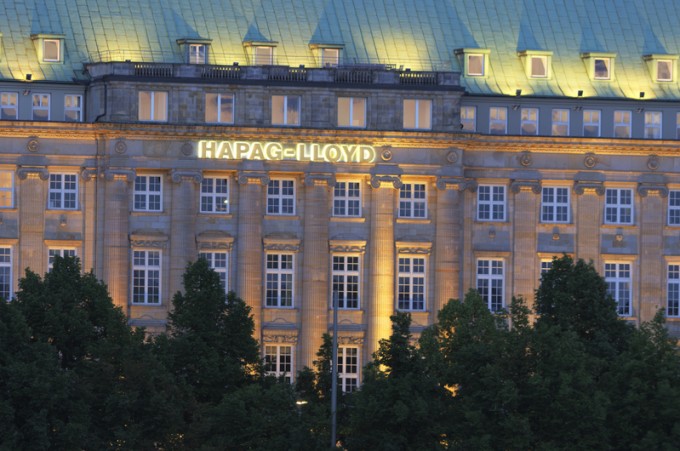 Hapag-Lloyd, the largest container line in the proposed THE Alliance, was the only one of the six-member agreement to record an operating profit in the first three months of the year, Alphaliner said today.
The German line managed $5m of EBIT, whereas Hanjin, K Line, MOL, NYK and Yang Ming all suffered after being hit by falling freight rates and weak cargo growth.
The next best performer in the group was NYK, which posted an EBIT loss of $10m, while the worst was Yang Ming, which came in $109m in the red.
However, in terms of net profit, Hapag-Lloyd also turned negative in the quarter, posting a loss of $47m versus a profit of $144m in Q1 2015.
According to Alphaliner, THE Alliance will have a projected Asia-Europe market share of 30%, with a capacity of 118,500 teu. This compares with the Ocean Alliance's 35% share (138,140 teu) and the 2M's 34% (131,130 teu). The remaining 1% market share will be taken by "others".
On the transpacific trade, the Ocean Alliance is the biggest grouping at 163,720 teu capacity, with a 39% market share, followed by THE Alliance, also with 39% but with slightly less capacity at 161,530 teu.
The 2M partners have just 16% of capacity at 65,960 teu, while nonaligned carriers make up 6% with 27,100 teu.
"The new THE Alliance will present a serious counterweight to the 2M and the Ocean Alliance on the east-west corridors," said Alphaliner.
Indeed, if UASC also joins THE Alliance – either via a merger with Hapag-Lloyd or in its own right – which Hapag-Lloyd last week said was "anticipated",  then this would push the grouping's overall capacity to more than 4m teu.
Despite some suggestion in the trade that merger discussions had reached an advanced stage, Alphaliner cautioned that the prospects of a tie-up "could be difficult to achieve", because of the "current weak valuation of Hapag-Lloyd's publicly traded shares and the difficulty of valuing UASC's contribution to a merged entity".
Since its IPO on 6 November, Hapag-Lloyd's share price has struggled to reach its launch price of €20 and is currently trading at a 55% discount on the carrier's book value, noted the consultant.
The German carrier said on 21 April that the basis of the discussion was on a "relative valuation of the two businesses, at 72% Hapag-Lloyd and 28% UASC". However, there has been no official comment from UASC to date.
Meanwhile, Hyundai Merchant Marine (HMM), excluded from the new alliance because of its parlous financial situation, faces an anxious wait to see if its creditors will accept the terms of a restructure, despite several shipowners still refusing to cut charter rates by 30% on its time-chartered ships – a key condition of the bail-out.