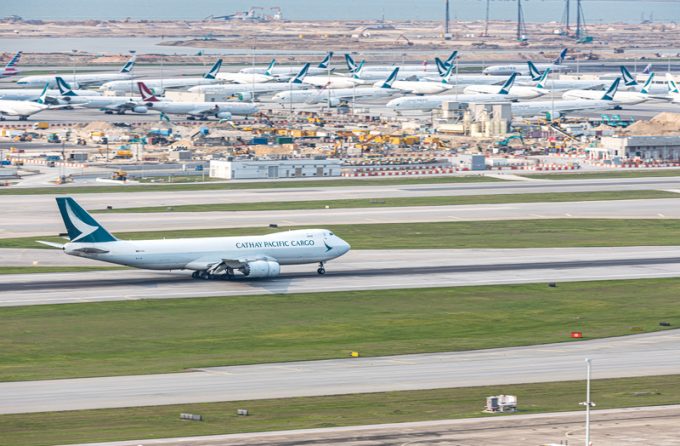 Hong Kong's crew quarantine measures have slashed the city's air cargo capacity, pushing freighters to competing hubs in South China.
In an update to customers yesterday, Cathay Pacific said it had lost 25% of cargo capacity last month, after restrictions were introduced on 20 February.
"The biggest obstacle to normal operations remains the introduction of new crew quarantine measures," said George Edmunds, general manager commercial cargo.
"These measures only affect airlines with Hong Kong-based aircrew and so apply to the vast majority of our pilots; therefore, there is an outsized impact on our operations relative to other carriers."
Weekly freighter frequencies between Hong Kong and the US reduced from the usual 34 flights a week to 21-28, said Cathay, noting the schedule would be further reduced this month, as "crew who have volunteered for the closed-loop operation enter quarantine before a well-earned period of leave."
The airline said the most affected routes were long-haul flights to Europe, south-west Pacific and the Americas, adding that it had "redeployed more freighters on regional and short-haul routes, where closed-loop operations are not required."
John Peyton Burnett, MD of TAC Index, said the reduced capacity in Hong Kong had pushed up rates, and that "other airlines are capitalising on the rate increases."
Indeed, according to Brian Wu, chairman of the Hong Kong Association of Freight Forwarding and Logistics (HAFFA), competing airlines have experienced little impact from the quarantine rules, since they have crew rotations in alternative Asian hubs, such as Bangkok and Narita.
He told The Loadstar some charter flights had been diverted elsewhere in South China, adding: "Shenzhen and Guangzhou are getting lots of air capacity and market share, even since last year, aided by the fact terminal handling charges in those cities are much less than in Hong Kong."
Sunny Ho, executive director of the Hong Kong Shippers' Council, pointed out the city had seen a 18% increase in charter flights in Q4 20, but, at the same time, charter flights from mainland China had increased 30%.
"Because Cathay cancelled passenger flights between Hong Kong and the mainland, there is much less transhipment," he explained. "In addition, most cargo consists of smartphones, notebooks and other electronics, produced in mainland China with financial incentives from local governments, to overcome the obstacles of no passenger flights and little inbound cargo.
"So there are more chartered flights directly into and out of the mainland – and although Hong Kong's overall tonnage has not been affected much, it has lost some market share."
Furthermore, Mr Ho said, freight costs had increased 20% since the crew quarantine measures were implemented.
"Of course, multiple factors are at play and it is difficult to isolate the effect. The Suez Canal blockage caused further delays and supply chain disruptions, with the higher ocean rates causing the diversion of some shipments to airfreight."