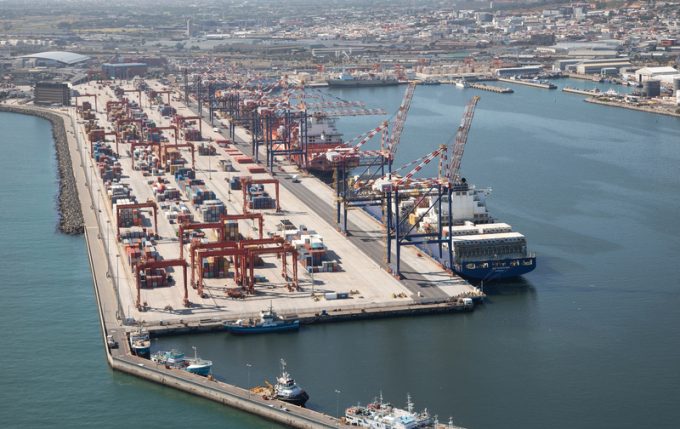 Severe port congestion in Cape Town Container Terminal is forcing container lines serving South Africa to redesign sailing schedules and introduce port congestion surcharges for shippers that continue to use the eastern Cape gateway.
Yesterday, CMA CGM announced a $550 per 20ft and $1,100 per 40ft port congestion surcharge at Cape Town for both dry and reefer containers, effective immediately.
This came in addition to a $200 per container general rate restoration for South African imports from Asia announced on the same day.
Meanwhile, the South Africa Europe Container Service (SAECS), jointly provided by Maersk, ONE and Deutsche Africa Linie (DAL), will omit Cape Town and focus its South African calls at Durban and Ngquara.
The western cape has seen one of the country's highest Covid-19 infection rates, with numerous cases reported among Cape Town Container Terminal workers, leading the facility to reduce the number of gangs serving vessels, causing berthing delays of up to a week.
However, Maersk said in an advisory this week it was transforming its WAF1 service – which normally serves West African ports on a string that begins in Algeciras and turns in Durban – into a dedicated shuttle feeder between Cape Town and Algeciras.
"Based on customer demand we will further deploy additional feeders from CPT, for onward transit to Europe," Maersk said.
"We believe this plan is the best solution available based on the current port and market situation. However, we fully understand that the dynamics of the port situation in South Africa will likely continue to change constantly.
"Thus, for the remainder of the citrus season, Maersk will continually (every week) re-evaluate our product to ensure it meets our customer needs," it added.
With the peak citrus shipping season underway, the congestion build up could not have come at a worse time for South Africa's citrus farmers, who are forecast to produce a record crop this year – 143.3m cartons, a 13% increase on 2019, according to the Citrus Growers Association, which identified "challenges at some ports remain the biggest threat to the current citrus season".
However, Maersk said it had also deployed additional geared feeder vessels along the South African coast, "which allow us more choices in terms of loading your cargo faster and also agility to call different terminals (berthing faster)", and defended its decision to withdraw the Cape Town call from SAECS.
"Without Cape Town on the SAECS rotation, but still deploying the same number of vessels, we expect we will have enough buffer to ensure timely arrival in Europe and reduce any omissions or serious delays in European ports, while at the same time, considerably improving the transit time from Durban.
"With a direct sailing from Cape Town to Algeciras, we aim to provide a dedicated and reliable service to this market with a fast transit time into the Mediterranean. Cargo to North Europe and Russia will tranship in Algeciras with minimal impact to transit time," it said.
Over the rest of this month there will continue to be some crossover of the two services, with two final Cape Town SAECS calls scheduled for 25 and 29 June, while the first call on the transformed WAF1 is set for 28 June with the departure of the 4,400 teu Lana.