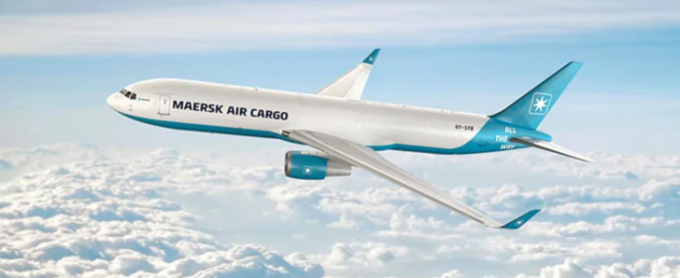 The creation of Maersk Air Cargo, the shipping group's airline borne of its existing integrator operator, Star Air, is the first step on what looks like a full-scale entry into the airfreight industry.
Hubbed at Billund Airport, Maersk Air Cargo will take over Star's activities and support "existing and new customers and Maersk's end-to-end logistics", said the group.
Maersk said it would operate five aircraft itself – two 777Fs and three leased 767-300Fs – and three new 767-300Fs will be "added to the US-China operation, which will be initially handled by a third-party operator".
One airline executive, questioned on the viability of a 767 on the transpacific, explained: "It can work, depending on rates of course, and also routes. Quite honestly, with the transSiberian routes closed, for what I think will be years, the economic case for this will be OK for quite a while, especially if it's a new generation production 767."
The new aircraft will join operations between the second half of this year and 2024.
Maersk said one-third of its annual tonnage would be carried on its own network, comprising a mix of owned and leased aircraft "replicating the structure that the company has within its ocean fleet". The remaining capacity will be provided by strategic commercial carriers and charter flight operators.
The move is expected to be followed by other investments in air cargo by the group. One industry source told The Loadstar shipping companies Maersk, DP World, and CMA CGM had been in "active discussions" and participating in the 'pre-bid' to invest in the Jewar airport being built outside Delhi. The source added that CMA CGM had "gone quiet", but Maersk and DP World were still active.
"We are seeing the lines get involved not just in ports, but airport development too. Freight buyers are, by their nature, multimodal of course."
Another industry source, in India, said Maersk – most likely via its AP Møller Capital investment group – was indeed considering an investment.
Maersk did not respond to a request for a comment, but interestingly, it has taken a stand at the Air Cargo India event next month.
But it is unlikely to end there. Maersk has recently invested in a wide array of logistics companies. It is in the process of swallowing: Visible Supply Chain Management, an e-commerce fulfilment company in Salt Lake City; Li & Fung Logistics, an Asian contract logistics and omnichannel fulfilment company; Pilot Freight, a US last-mile specialist; and Performance Team, a North America warehousing and fulfilment company.
It is looking to cover the entire end-to-end chain; but what appears to be missing is a ground handler.
The ground handling market is undergoing a period of M&A and private equity investment, and one knowledgeable source close to the action said: "Maersk may tie-up with Swissport. Others, like Menzies and WFS, are in discussions with the maritime big daddies. These could be interesting alliances."
However, Dorothea von Boxberg, CEO of Lufthansa Cargo told CargoForwarder, she doubted shipping lines' ability to integrate air cargo into their wider operations.
"Personally, I see few synergies between the two business segments of sea and air. The proponents probably underestimate what it takes to operate an airline profitably over a longer cycle. It requires a minimum fleet size and high commercial and operational competence to be financially successful. To me, it appears that shipping companies are chartering freighters in response to, and for the duration of, the current capacity squeeze."
She added: "Shipping companies that operate freighters will find out how tedious the air cargo business is without the involvement of freight forwarders."
Torben Bengtsson, global head of air & LCL, for APMM, said: "Maersk Air Cargo is an important step in the Maersk Air Freight strategy, as it will allow us to offer customers a unique combination of air freight integrated with other transport modes. We see increased and continued demand for air cargo, both today and going forward, as well as growing demand for end-to-end logistics. [This is] why it is important for us to strengthen our own-controlled capacity and advance further on our air freight strategy."
For more information on the air cargo market, listen to this clip from the latest Loadstar Podcast: The impact of war on air cargo capacity, charter operators and lessors – Glenn Hogben, CEO of the Air Charter Association. 
You can contact the writer at [email protected]