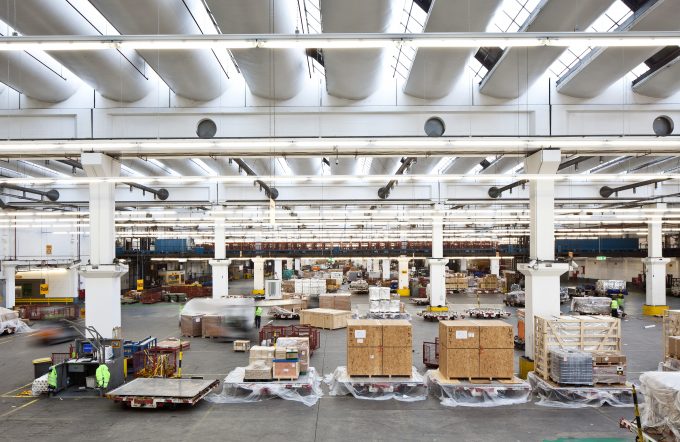 Lufthansa Cargo and Cathay Pacific now have all their cargo handling under one roof.
The move means the carriers expect increased cross-bookings once the first services begin on 1 February.
Yesterday the airlines announced their cargo handling activities were now at Lufthansa's cargo terminal in Frankfurt, following Lufthansa's move into Cathay's Hong Kong Cargo Terminal in October.
The first joint shipments will start with routes from Hong Kong to Europe. Customers will be able to book eastbound shipments from Europe to Hong Kong in 2018.
The deal mirrors that between Lufthansa Cargo and ANA Cargo, which the German airline says is successful.
"Taking the established ANA Cargo cooperation as an example, the cross-bookings on each partner have increased year by year," said a spokeswoman.
"The advantage of using joint-venture capacities works out very well, because our customers use the capacity of the other party too. Especially in situations such as service recovery or capacity changes."
The JV with ANA was ground-breaking when it launched in 2015.
It went further than previous attempts at air cargo alliances. Key to the antitrust-approved agreement is metal neutrality, with no incentive for the two sales teams to choose one airline over another. All routes within the JV area are sold as one network.
The carriers also had to unify rates and surcharges and set up common revenue and margin management and joint sales forces and strategies.  Warehouses, handling facilities and IT systems all had to be aligned – currently underway with Cathay, alongside network planning and sales.
The advantage, said Lufthansa, was that the airlines gained a wide customer base and more flights without the need to invest in additional capacity, as well as lower feeder costs.
One of the challenges of such an integrated deal is to ensure the same quality of service and standards, something likely to be made easier as both Lufthansa and Cathay Pacific are active members of Cargo IQ.
Cathay Pacific has fully integrated the Cargo iQ performance management system, so both airlines will be able to measure all their data in a common language.
Francis Yuen, cargo services manager-performance at Cathay Pacific, told CargoIQ last year that the system helped integrate processes.
"The process also gives us a better idea of how other players in the chain work, as implementing this practically is a collaborative endeavour. The idea of a common language means we quickly see where integration of two processes would be an advantage (and in which direction to go)."
Lufthansa, famously, had a tough 2016 and sees the partnership strategy, which it also has with United, as a tonic for its ills.
"The concept of cooperation is probably as old as humanity itself," said the Lufthansa Cargo spokeswoman. "The power of working together is what has allowed us to succeed as a species. And as old as the concept is, it still has potential today.
"So what makes cooperation successful? It takes a well-balanced mixture of differences and similarities.
"Ideally, when joining forces, seemingly contrasting strengths will add up to something new and exciting. Synergies will emerge. Portfolios will complement each other. Some might argue that the most impressive and successful kind of cooperation is one that ends up creating something that is greater than the sum of its parts."
Lufthansa's passenger side is widely expected to announce closer ties with Etihad next week, but it remains to be seen whether cargo will be included.