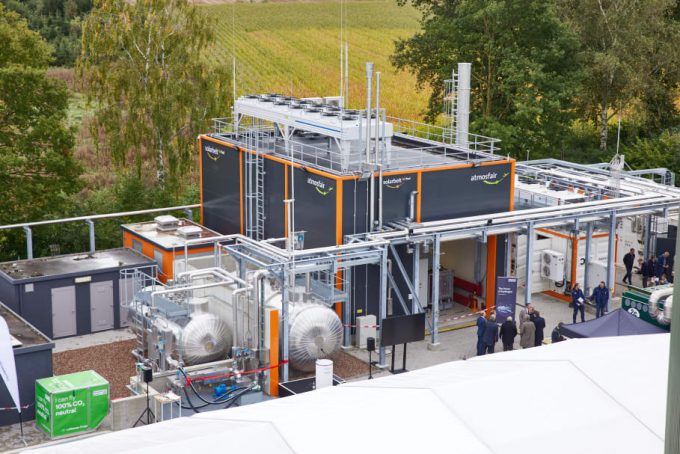 'Power-to-liquid' is the latest buzzword in sustainable aviation – and two of the more progressive companies have announced a partnership deal to promote and use synthetic crude oil.
Lufthansa Cargo and Kuehne + Nagel are supporting the world's first production site in Germany, operated by atmosfair, and will buy 20 tonnes (25,000 litres) annually.
Power-to-liquids – or electrofuels – are made by a synthetic alternative to kerosene, using renewable electricity to produce hydrogen from water and combined with CO2 (see chart below).
While technically viable, there are some big challenges. Not only are electrofuels between three and six times more expensive than traditional fuel, but the requirement for renewable energy is difficult. One study shows that, for electrofuels to meet the demand for aviation fuel by 2050, it would need 95% of all the electricity generated using renewables in Europe.
However, it has an advantage over some non-waste biofuels, which can have an indirect impact on land use. Recycled waste biofuels are cleaner in terms of indirect costs, but volumes are still low – and aviation competes with the road industry for the fuel.
The annual purchase of 25,000 litres will not cut aviation emissions in any significant way, with some 197bn litres used globally in 2020. But investment in the sustainable sector is key and Dorothea von Boxberg, CEO of Lufthansa Cargo, said the carrier was "actively tackling" climate protection.
"We clearly see the key to a sustainable reduction of our emissions in flight operations in the research and use of synthetic, sustainable aviation fuels. The fact that we are now pioneering power-to-liquid technology, with Kuehne+Nagel, makes us particularly proud."
K+N board member Yngve Ruud added: "Already, Kuehne+Nagel customers can avoid carbon emissions of their shipments globally with our bio SAF solutions and I am delighted to see that the time has come for synthetic SAF as the long‐term solution for aviation.
"By securing the first power-to-liquid fuel production, with Lufthansa Cargo, we are sending a strong message of commitment and collaboration, inviting our industry colleagues and customers to join us in creating the low-carbon economy of the future today."
Atmosfair, a non-profit climate protection organisation based in Berlin, has built its own plant for the production of so-called "syncrude".