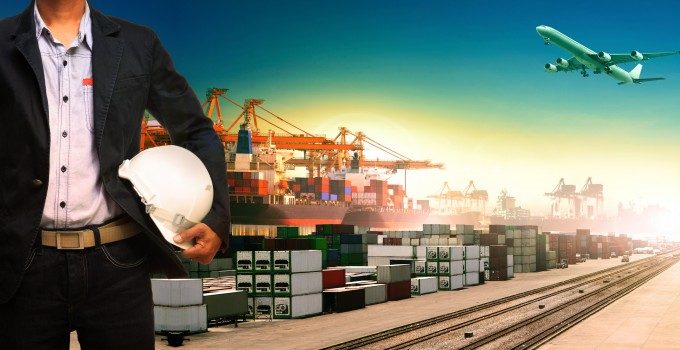 London Gateway has moved forward with the development of what will eventually be Europe's largest logistics park after this week awarding the management contract of its common user facility to Import Services Ltd.
As previously reported in The Loadstar, the port-centric specialist had been looking at expanding beyond its Southampton base, and was this week awarded a five-year management contract, with options, to operate the facility when it opens in March next year, after a selection process run by London Gateway.
Set to be the first warehouse operating adjacent to London Gateway, the facility will initially offer 185,000 sq ft, with a second phase of development taking it to 350,000 sq ft, and Import Services will "provide a pay-as-you-go service moving inbound containers from the terminal into the distribution centre, devanning the boxes, storage of goods, picking and packing", according to the company's client services director, Mike Thomas.
He told The Loadstar: "It will be high volumes and will involve a large element of cross-docking, principally of fast-moving consumer goods."
Large volumes of FMCGs moving across the docks of the UK's newest container terminal will ultimately depend on it winning a regular Asia-Europe deepsea service, rather than the ad hoc calls it has hitherto served.
"I am absolutely confident that this will happen," Mr Thomas said.
This week's deal will provide a fillip to DP World executives keen to get the logistics park back on track after Marks & Spencer pulled out of its project to build a 900,0000 sq ft national distribution centre there in May – mainly due to the pressure that the capital expenditure put on the retailer's already stressed balance sheet.
Mr Thomas said that the common-user, pay-as-you-go concept allowed shippers to trial both the container terminal and location of the logistics park, and to push business through the port without committing large amounts of funds or risk upfront, and the facility will also be open to business from other forwarders, as well as to the multinational 3PLs.
"The larger boys that haven't yet taken a decision on developing a 1m sq ft facility will be able to use us to dip their toe into the water – it's a very flexible, variable cost model," he said.
"There are trigger points for the second phase, and I am targeting that, by the end of year two, we will be moving into the second phase," he added.
Under the terms of the deal, DP World's London Gateway has funded the construction of the facility, with Import Services purchasing the racking and IT systems.
London Gateway head of supply chain Peter Ward said: "This model has been developed based on market demand that we have identified through extensive research. We identified demand directly from the cargo owners for these services.
"While household retail names have the option to develop their own dedicated buildings on the 9m sq ft logistics park, we intend to make sure that the port-centric and market-centric benefits of using London Gateway are accessible to all, irrespective of size, including cargo owners, freight forwarders and 3PLs. However, even the larger operators have recognised the benefits of using the common user facility because it enables them to further optimise their supply chain by back-loading into their existing networks."
Having recently completed an extension to its main Southampton warehouse – which was similarly funded in conjunction with port owner ABP – Import Services, which lists John Lewis, Amazon, Harrods, Tesco, Toys R Us and El Corte Ingles among its clients, needed to expand geographically, Mr Thomas explained to The Loadstar.
"We had got to a position in Southampton where we had been seeing 15% growth year-on-year and had run out of options to grow further, and at the same time we have always wanted to have a twin-port strategy in the UK."
Other larger UK freight service providers are also developing twin-port logistics strategies. Uniserve's existing London Mega Terminal, adjacent to Tilbury, is around 10 miles from London Gateway, and the company is also constructing a large warehouse on what is effectively the last parcel of logistics land available around Felixstowe.
However, Mr Thomas also added that London's Gateway's immediate proximity to a large local market combined with nearby access points to continental markets represented another area for growth.
UK and international retail volumes handled by Import Services that are transhipped in the UK and moved into continental Europe have grown strongly in recent years as e-commerce sales, abetted at times by favourable exchange rates, have allowed retailers to penetrate new markets.
London Gateway's potential to act as an international hub was a significant attraction.
"A big part of what we do in Southampton is linking into retailers' sales in continental Europe, whether that is e-commerce goods – for which we use DHL Express and UPS for international parcel deliveries – or larger freight using pallets which are connected to Europe using hauliers' line haul operations.
"We have developed a number of successful partnerships to service markets across Europe – next-day deliveries to the major cities, and slightly longer for anywhere from Scandinavia to Iberia – and London Gateway offers huge potential for developing those sort of trade routes.
"Look at the ferry services going out of Tilbury offered by the likes of P&O;  we fully intend to begin exploring these opportunities. In addition, there are a large number of parcel hubs in East London to support e-commerce volumes," he said.