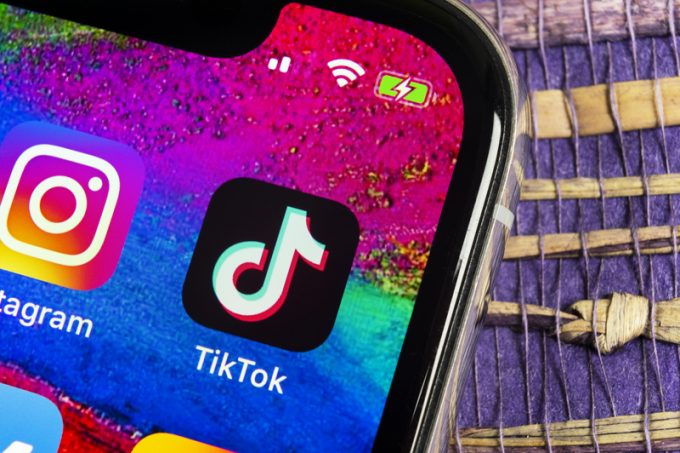 The last few months have demonstrated just how much of our daily lives can be lived in the comfort of our homes: from remote working, to virtual pub drinks and, of course, shopping.
In the US, TikTok and Levi's have just released the first findings of their commercial partnership, which included the use of a 'shop now' button in platforms.
Making purchases from within social platforms is an increasingly popular channel for consumers, helped by the one-in-four British businesses which had enabled this by the end of last year.
However, Britain is still playing catch-up. This level is nowhere near the global average of 45% of sales which is purchased through social media, according to PayPal data earlier this year. But given the social lockdowns, it's become a normal retail customer experience that the only interaction we have with a brand before an order arrives on our doorstep is via social media.
Once destinations for interacting with family and friends, social media platforms have added marketplaces and become another shop-front for brands. Social media platforms are now creating opportunities for businesses to convert consumers' browsing behaviours into frictionless shopping experiences. By integrating 'buy' and 'checkout' functions, consumers can now make purchases directly through Facebook, Instagram or Pinterest, creating new ways for them to take immediate action on purchase intents and interact directly with brands, in real-time.
However, as immediate communication and instant service becomes the norm across all industries, freight, transportation and distribution businesses need to adapt to keep up. BluJay research indicates that 61% of supply chain professionals believe that delivering an enhanced customer experience is now the main driver for supply chain innovation, over reducing costs. This means understanding the shift in consumer behaviour, being aware of advancements in e-commerce and service provision and knowing how to leverage these changes to achieve a competitive advantage.
New ways to shop
Consumer attitudes and preferences have changed dramatically over the past five years. Alongside advancements in mobile technology, consumers have embraced immediate communication and now expect instant customer service. UK businesses have a huge opportunity to capitalise upon the impending boom, with 8.4m British consumers already shopping via social media. With a fifth of those already taking part in social commerce weekly, this proportion looks set to rise, along with the average monthly spend of £71.
Consumers are seeking new ways to engage with brands using technology, with younger generations leading the social commerce charge. According to the Global Web Index report, the adoption of social commerce is particularly high among generation Z and millennials, with 60% more inclined to make a purchase on a social platform when given the opportunity. Buy now, pay later schemes like Klarna also give customers even easier ways to purchase products at a time of their choosing.
Transforming delivery on the last mile
Social commerce is about offering a fast, easy and frictionless end-to-end experience. Unfortunately, one of the less considered components of this revolution is how supply chains need to evolve to meet the expectation for seamless, speedy delivery.
The challenge for freight, transport and distribution companies is fulfilling orders placed via social media efficiently, competitively and conveniently. This is imperative as it only takes one bad experience for a customer to look elsewhere.
So how can these businesses keep pace with socially minded consumers, given the speed at which purchases can now be made?
Today, shoppers expect brands to be 'always on' and provide real-time product information, such as whether a product is available in a particular store and delivery time frames. But to do this requires two things: visibility into inventory levels and the ability to communicate real-time information to partners, suppliers and customers alike. Brands will be looking to freight, transportation and distribution companies to provide the visibility demanded by customers, making visibility solutions vital for shippers.
Supply chain collaboration
But these companies will struggle to meet customer expectations without the support of a wider network. Imagine a scenario where an influencer with millions of followers posts about a little-known UK brand. The brand probably didn't expect the post and it's highly unlikely it's set up optimally to fulfil the surge in orders that resulted. This is where businesses can benefit from having a network of freight, transport and distribution companies to call on. Networks provide a base from which flexibility, scalability and operational creativity can be born. In the case of the brand that experienced the surge in sales as a result of an Instagram post, with a network it could've easily adjusted workflows to optimise the supply chain, or call on 3PLs combined with drop shipping to meet demand. It's a balancing act to ensure the orders get fulfilled on time, yet if a delay was to occur, their transport counterparts can offer ad hoc services, such as overnight delivery, to meet their requirements.
As every aspect of society is becoming increasingly mobilised, mobile applications can also offer flexibility to manage the process from the dock to doorsteps with real-time track and trace and last-mile routing capabilities. Supply chain mangers are wise to consider putting a mobile solution in the hands of carriers and drivers that is flexible, easy to-deploy and manages last-mile delivery experience with updates for all stakeholders. Mobile solutions often incorporate an interactive interface for end customers to check the status of their delivery and make changes, giving customers control and visibility of their shipments. The growing popularity of direct-to-consumer sales, including social commerce, are creating a market for such technology solutions, with consumers coming to expect this level of service and convenience.  
Into a new retail landscape
Increased connectivity across the world is expected to make social shopping not only possible for more people in more places, but a higher-quality and more pleasing customer experience. But to ensure that customer satisfaction translates from screen to doorstep, the supply chain must be ready to handle each new trend, from micro-influence to megatrend. To satisfy changing customer expectations it is essential to both optimise and enhance processes through the improvement of visibility and connectivity across the supply chain. At the end of the day, surviving a retail landscape dominated by social shoppers will require the logistics industry to get be itself more connected than ever.
This is a guest post by Sian Hopwood, SVP B2B operations, BluJay Solutions