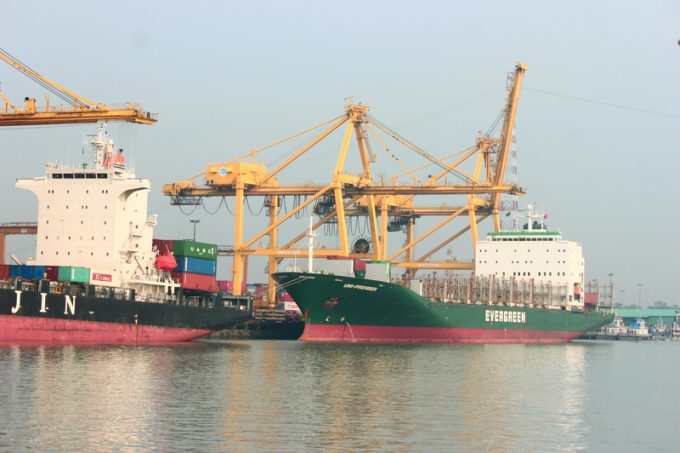 Chittagong Port is facing the worst situation in its history, with more than 40,000 teu lying in yards for nearly two weeks, and more than two dozen vessels at the port area for over a week.
Pressure has grown since Eid-ul-Azha, and lockdown-linked closure of factories and warehouses across the country since 20 July has hampered delivery of boxes from the port yards.
However, the National Board of Revenue (NBR) has now allowed all types of containers to be delivered to the off-docks, but the move has yet to bring any significant results.
Today, some 42,029 teu are lying in port yards, while 56,760 teu are at the off-docks – close to storage capacity.
The port authority is prioritising the berthing of Chittagong-Colombo vessels so they can help lower the number of export containers at the off-docks. As of yesterday, some 9,805 teu of exports were waiting for feeders, against a usual 6,000 teu.
But this priority berthing has resulted in long delays for Chittagong-Singapore, Chittagong-Port Klang and other routes, and some vessels have waited 10 days at the port's outer anchorage.
The Bangladesh Shipping Agents Association (BSAA) on Saturday requested that the port authority follows a 'first-come, first-served' policy in allocating berths for all container vessels calling at the port.
"Prioritising Colombo-bound vessels [has had a] severe adverse effect in the berthing schedule of ships connecting Singapore and Malaysia transhipment points…," BSAA chairman Syed Mohammad Arif wrote.
Bangladesh receives about 70%-75% of its container imports and sends about 60% of exports through these two transhipment ports, he added.
Mr Arif also noted that at present, the waiting time for Singapore and Malaysia-bound vessels had reached five days on average, and "it will certainly create a major bottleneck at those transhipment [ports]".
The import of raw materials for export will suffer delays too, he added.
Demand is set to increase, however, since the government brought forward the re-opening of export factories from 5 August; they re-opened yesterday.
Now, port officials hope importers will start taking delivery of containers in increased volumes, lowering box congestion at the port yards, off-docks and the outer bar of the port.
Malfunction hampers air cargo shipments
The Bangladesh Freight Forwarders Association (BAFFA) last week said export cargo shipments were being disrupted due to the malfunctioning or breakdown of an explosive detection system at Hazrat Shahjalal International Airport.
And the shortage of loading bays at the cargo complex was also hampering exports through the airport, they said.
BAFFA president Kabir Ahmed wrote to the Civil Aviation Authority noting that of two explosive detection systems, one had been out of order for the past eight months, while the other one was only operated periodically, "supposedly due to technical limitations".
The systems were commissioned recently, but cannot be used in the absence of EU validation.
"This is resulting in a huge backlog in shipments and affecting exports," said Mr Ahmed, adding that in the absence of a proper storage warehouse, export cargo is stored outside, and could be damaged by rain and sun.
Meanwhile, along with increased congestion, air freight rates have gone up significantly this month, compared with the previous month.
On Monday, US-bound cargo was charged $7.50 per kg, while towards Europe, the rate was $3.90 per kg. A month ago the rates were $6 and $3.25, respectively.
BAFFA vice president Syed Bakhtiar said the volume of exports by air had increased significantly as sea routes remained volatile, both in terms of tariffs and congestion.