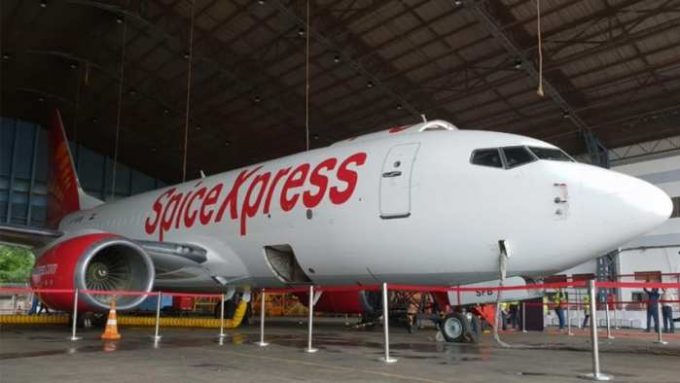 SpiceJet has applied to US authorities to start Covid-19-related cargo flights as soon as possible, and is looking initially to wet lease aircraft for the operation.
The Indian low-cost carrier applied last week to fly an all-cargo service between India, the US and any point, as well as cargo charters and cargo/passenger combination flights.
It said: "Specifically, SpiceJet plans to start operating charters carrying Covid-19 PPE cargo and repatriation passengers between Delhi, India, and New York JFK as soon as possible, thus contributing to the ongoing relief operations to combat the pandemic.
"Subject to appropriate authorisations, it may start charter flights through a wet-lease arrangement at the outset and then transition to its own fleet."
Airlines that wish to support or object to the service must file their response to the DoT by 16 December.
SpiceJet said it would develop its US services post-Covid, and "may expand the proposed services or use other aircraft in future".
The use of other aircraft seems highly likely. The carrier currently has an 111-strong fleet, consisting almost entirely of the 737 family, including three freighters, as well as Q400s.
SpiceJet noted: "For its proposed US operations, SpiceJet is planning to operate Boeing 737-700 and B737-800 cargo and B737-800 passenger aircraft."
One seasoned air cargo observer noted that 737s would need two to three stops between India and the US.
"It is possible, but SpiceJet won't do it, I suspect it has named the aircraft just to get permissions. If it goes for ACMI it could use a passenger plane with the seats out, or a 767 freighter would be the smallest.
"But it's not great economically for a flight that long – too little payload versus costs. Best bet would be an A330 or bigger, with the passenger seats out, and to start fast."
The carrier declined to give financial projections for the service, "given the current air transport market situation", and asked the DoT to "waive the requirement" for them, given that its first year "may be entirely limited to … pandemic-related passenger and cargo traffic, and will not reflect any of the market data".