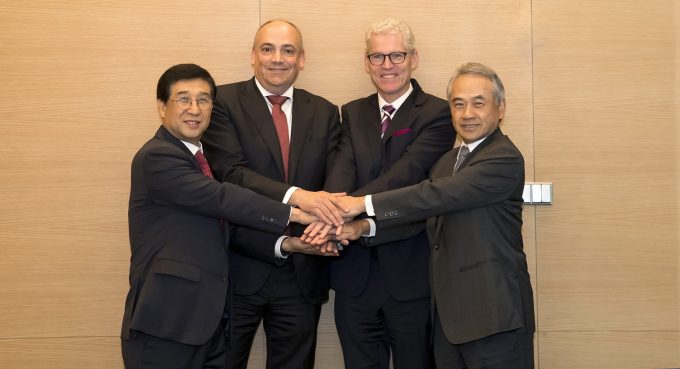 South Korean carrier Hyundai Merchant Marine (HMM) is to join THE Alliance when its slot charter agreement with the 2M expires next April.
HMM will become the fourth member of  the vessel-sharing group, joining Hapag-Lloyd, ONE and Yang Ming.
An agreement signed last week also saw the founding members extend the duration of their alliance until 2030.
Hapag-Lloyd chief executive Rolf Habben Jansen said: "HMM is a great fit for THE Alliance as it will provide a number of new and modern vessels, which will help us to deliver better quality and be more efficient."
Mr Habben Jansen has clearly warmed to the fresh overtures of HMM, previously he said: "We think it is very important that we have a level playing field and we are not in favour of government subsidies in the form that it is being done with HMM."
THE Alliance has conceded a lot of ground to the bigger 2M and Ocean alliances over the past year, hobbled by the weak financial position of Yang Ming and the botched merger and launch of the Japanese carriers K Line, MOL and NYK as ONE.
HMM has a $2.6bn orderbook for 12 scrubber-fitted 23,000 teu vessels, which will be delivered in the second quarter of next year, and eight 15,000 teu ships stemmed for delivery a year later.
Meanwhile, Hapag-Lloyd, the only profitable carrier of the group, was recently rumoured to be talking to Asian yards about ordering 20,000+ teu ULCVs.
The news of HMM's acceptance into THE Alliance follows HMM new president and chief executive Jae-hoon Bae's 'charm offensive' visit to Europe in April for meetings with the 2M partners, Maersk Line and MSC about the carrier becoming a full member of their alliance.
The Loadstar understands from a source that, when his approach was flatly rejected, Mr Bae returned to THE Alliance members, which had rejected the advances of his predecessor, to see if there were conditions that would persuade them to change their minds.
These mainly related to obtaining assurances from the state-owned Korea Development Bank (KDB) that it would continue to fund the carrier after losses of $720m last year and $1.1bn in 2017.
Shippers have become more cautious with their bookings after the bankruptcy of  carrier compatriot Hanjin Shipping in 2016, which resulted in over 100 ships and more than 500,000 teu of cargo stranded at sea and in ports for several weeks.
It prompted THE Alliance to build a funding mechanism into its new vessel-sharing agreement that allows the remaining parties to take action to facilitate the movement of cargo carried by a failed container line partner.
Ocean Network Express (ONE) chief executive Jeremy Nixon said he was "happy to see HMM join THE Alliance". He claimed this would improve sailing frequencies and provide "a better balance of our cargo flows", while Yang Ming's chairman and chief executive, Bronson Hsieh, said it was "an important milestone for THE Alliance".
Lars Jenson, chief executive and partner at SeaIntelligence Consulting, said HMM's injection of large ULCVs would strengthen THE Alliance's growth opportunities, without member carriers needing to "leverage themselves into a large new orderbook".
According to Alphaliner data, HMM is currently the ninth-ranked global carrier, with an operating fleet of 425,550 teu and an orderbook of 396,000 teu.
Mr Bae said: "Being a full member of THE Alliance gives us a lot of pride. We are convinced that we will be successful and generate additional value for our customers, employees and shareholders with combined experience, strategic skills, competitive fleet and a strong focus on our clients' needs."
In October, HMM set a target to expand its fleet capacity to 1m teu and be generating annual revenue of $10bn by 2022.
A slot charter agreement with the 2M was a condition of HMM's financial restructuring in 2016, but the South Korean carrier was always the 'poor relation' in the group and, according to insider sources, "the last to be told" when containers were rolled over.