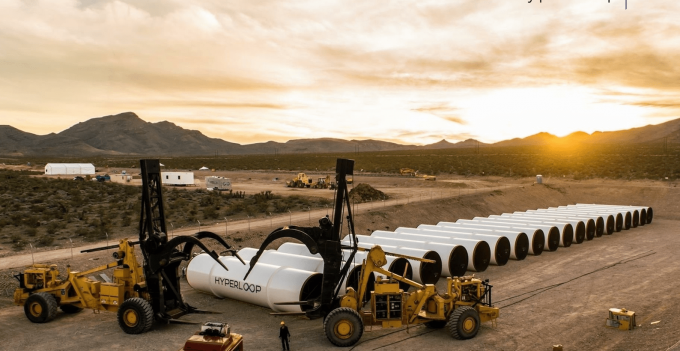 Revolutionary transport system Hyperloop One has netted $50m in investment from DP World.
The port operator's investment will fund continuing research and development of the technology as it competes with rival hyperloop developer Hyperloop Transportation Technologies (HTT) to bring PayPal founder Elon Musk's vision to reality.
DP World chairman and chief executive Sultan Ahmed Bin Sulayem will join Hyperloop One's board. He said: "The world is changing quickly and we want to be involved in the potential this kind of innovation presents, connecting markets and economies around the world and realising our vision to lead the future of world trade."
Mr Musk envisaged a solar-powered transport system that would shuttle passengers and cargo around at 760mph for $20 a ticket in a 2013 white paper.  It was issued as an open-source challenge, rather than engaging in developing the technology himself.
In May, Hyperloop One conducted a proof-of-concept test in the Nevada desert and aims to be the first to complete a full hyperloop test, set to take place in the first quarter of 2017.
With DP World's investment, Hyperloop One has sourced $160m in funding since it launched in 2014.
The latest cash injection follows a memorandum of understanding signed between the two firms in August to analyse the suitability of Hyperloop systems in the UAE, with an initial focus on moving containers from Jebel Ali Port to an inland container depot in Dubai.
Rob Lloyd, chief executive of Hyperloop One, said: "We are excited to continue our strong partnership with DP World as well as welcome Sultan Ahmed Bin Sulayem to our board of directors. These latest moves strengthen our company from a global perspective as we move towards showcasing the world's first Hyperloop early next year."
The firm has also appointed former Uber chief financial officer Brent Callinicos as strategic and financial advisor to Mr Lloyd and the board.
Hyperloop One co-founder and executive chairman Shervin Pishevar said: "I saw first-hand Brent's contributions to Uber when it scaled from 300 employees to 3,000-plus, launched hundreds of cities and raised billions of dollars. His experience will be invaluable as we prepare for the next stage in our funding and development."
Prior to joining Uber in 2013, Mr Callinicos was vice president, treasurer and chief accountant at Google, and also ran the internet giant's green energy investment portfolio.
Meanwhile, Hyperloop One remains embroiled in legal proceedings launched by ex-employees led by former chief technology officer Brogan BamBrogan in July.
Mr BamBrogan and his co-plaintiffs assert that Hyperloop One's upper management engaged in "nepotism, financial misconduct, and made physical threats" – including leaving a "hangman's noose" on Mr BamBrogan's chair.
In response, Hyperloop One issued a countersuit seeking $250m in damages, claiming the ex-employees, whom it labels "the gang of four", were involved in "an illegal and failed plot to overtake the company in a coordinated coup".