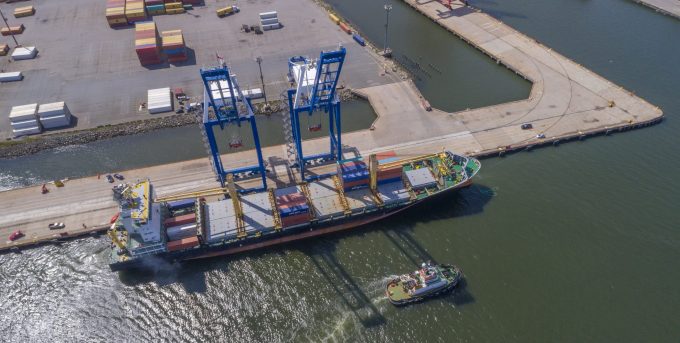 Canadian Pacific Rail's (CP) drive to establish itself as an operator serving container streams on the nation's Atlantic as well as Pacific coasts took another step forward last week, thanks to Hapag-Lloyd plans for a container service to the eastern port of Saint John next year.
At the same time, CP is stepping up its presence on the west coast.
The Hapag-Lloyd boost to CP's east coast ambitions was doubled by the extension of its contract with the rail carrier until 2025.
This is a major gain for CP and for the New Brunswick port, as Hapag-Lloyd is the rail carrier's largest customer in terms of volume, and CP plans a regular service to connect St John with Montreal, Toronto, Detroit and Chicago when the ocean service kicks off.
The rail carrier gained access to the port a year ago when it acquired Central Maine & Quebec Railway, and with the clock ticking for the new ocean service, management is rushing to reduce dwell times at Saint John as well as increase transit times to the interior.
It intends to have investment ready by the end of the year to reduce dwell time to less than two days and transit times to Montreal, Toronto and Chicago to 24, 48 and 70 hours, respectively. And more traffic could be generated through CSX's plan to buy regional rail operator Pan Am Railways, which would create an interchange between CP and the US railway.
Chief executive Keith Creel told investors he was bullish  and expressed confidence that a second weekly container service should be in place before the end of 2021.
The port is spending C$205m (US$160.16m) on doubling its container capacity to 300,000 teu and has its sights set on land that could allow capacity to go up to 600,000 teu.
Elsewhere, CP has strengthened its ties with Maersk through a multi-year contract to move the ocean line's business through the ports of Vancouver and Montreal and an agreement for a 117,000sq ft transload facility near Vancouver, exclusive to Maersk, to speed up flows through the west coast gateway. And October saw CP join the blockchain-based TradeLens platform launched by Maersk and IBM.
The transload facility for Maersk is part of a broader expansion for CP in the Vancouver area. It is also setting up a 20-acre compound for automotive traffic and a transload facility for liquid energy.
Over the past couple of years, the railway has made headway with its container business in Vancouver, gaining Yang Ming traffic as well as much of the volume of the ONE alliance. However, the latter has shifted back to CN, which still commands a formidable lead. In the container business it serves seven ports, versus three for CP. Among the seven are Prince Rupert and Halifax, where CN is the only rail operator.
That tally is set to rise to eight with the planned facility at the port of Quebec City, slated to come onstream in 2024.