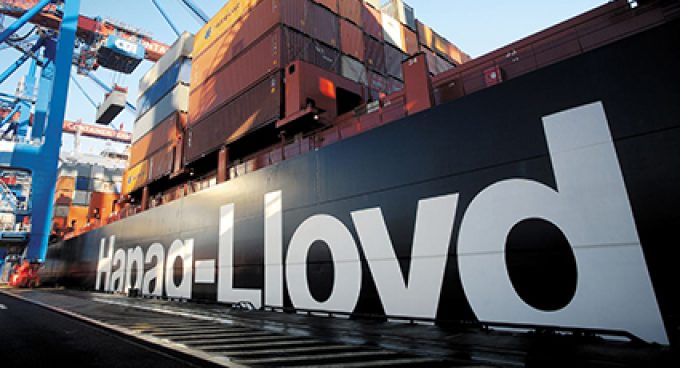 Hapag-Lloyd succeeded in putting "profits over market share" in its third quarter, according to container shipping analyst Lars Jensen.
The carrier posted a net profit of $168m in Q3, achieved from higher average freight rates on flat volume growth.
For the nine-month period, net profit was $333m, which compares with a surplus of just $15m for the same period of last year, and at ebitda level, the nine-month result came in 75% higher than the year before at $1.7bn.
"Clearly its approach to prioritise profitability higher than a pursuit of market share is paying off," said Mr Jensen.
Chief executive Rolf Habben Jansen said: "We have achieved a very respectable result after nine months."
And, during a Q&A session at the results presentation, Mr Habben Jansen said there was "definitely room to work closer" with Japanese carrier ONE, but added that he did not think that there was any possibility of a merger.
Revenue over the first three quarters improved 5% on the same period of 2018, to $10.65bn, on volume growth of 1.2% at 9m teu. Average rates were up 4% to $1,075 per teu.
Excluding intra-Asia, where Hapag-Lloyd deliberately scaled down some uneconomic services as part of a "strategic realignment", the carrier's growth would have been more in line with the industry par of 2.7%.
Hapag-Lloyd said it expected a full-year ebitda of €1.6bn ($1.76bn) to €2bn, adding it assumed it would be "in the upper part of the guided ranges".
In terms of the cargo outlook, Mr Habben Jansen acknowledged that demand in the first weeks of October, after the Chinese Golden Week holiday, had been soft, but said bookings in the past few weeks had been "pretty decent", and he expected volumes to remain healthy until the Chinese new year holiday at the end of January.
Hapag-Lloyd succeeded in keeping a lid on its transport expenses, which were "almost flat" in the nine months, despite a 5% increase in the average cost of its bunkers, at $425 per ton.
Mr Habben Jansen revealed that the carrier's fleet consumed some 350,000 tons of fuel a month, which, based on the current spread between HFO (heavy fuel oil) and the LSFO (low-sulphur fuel oil) required from 1 January to comply with IMO 2020 regulations, could add  around $90m a month to transport expenses.
In terms of recovering this, he confirmed that its Marine Fuel Recovery mechanism had been rolled out "to encompass all of Hapag-Lloyd's annual contract business".
However, obtaining compensation for the 60% or so of its business carried on a spot or short-term contract basis would be the subject of the carrier's recently introduced IMO transition charge (ITC) it plans to bring in on 1 December at $135 for Asia-North Europe and $125 for the transpacific.
Hapag-Lloyd is in the process of scrubber-retrofitting ten of its Hamburg Express-class 13,000 teu vessels and will also have nine chartered-in ships with scrubbers installed.
Mr Habben Jansen said the carrier would have some 15% of its fleet equipped with the exhaust gas cleaning systems, which enable ships to consume the cheaper HFO after the IMO's 0.5% sulphur cap comes into force.
However, this number is far below rivals such as MSC and Evergreen, which means that it is essential that Hapag-Lloyd recovers the additional cost of the low-sulphur fuel from its shipper customers.