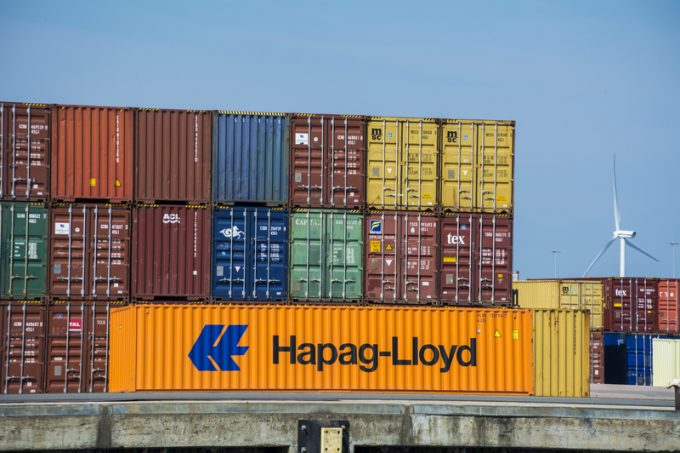 Hapag-Lloyd posted a net profit of $1.8bn for the second quarter of the year, compared with just $287m for Q2 20, and says it expects very strong earnings for at least the next three quarters.
Revenue was up 70%, to $5.65m, from a 12% uplift in liftings to 3,029,000 teu – which was, however ,slightly below carryings in the same quarter of 2019.
It's average rate jumped to $1,714 per teu, just below OOCL's $1,799, but significantly higher than Maersk's reported $1,519, and CEO Rolf Habben Jansen said Hapag-Lloyd was "naturally pleased by this extraordinary financial result".
He said that, despite increased costs and operational challenges, the second half of the year would "very likely be very strong".
"While demand remains high in the current congested market environment, it is leading to a shortage of available weekly capacity," noted the carrier.
Mr Habben Jansen said Hapag-Lloyd needed 11% more containers to carry the same amount of cargo, due to congestion in the network, along with more ships, but "these were just not available".
Hapag-Lloyd operates a fleet of 250 containerships, of which 134 are chartered-in, but the carrier was fortunately able to renew many of these for periods of up to three years before the big spike in daily hire fees.
And to boost its fleet, the carrier has negotiated a deal to acquire ten 13,200 teu newbuild resales, which it is understood will be partly purchased and part long-leased. It also has 12 23,500 teu dual-fuelled LNG/LSFO-powered ULCVs on order for delivery by 2024.
Despite the negative ramifications for LNG as a marine fuel in this week's IPCC report, Hapag-Lloyd maintains its position that LNG "still makes sense" as a transitional fuel.
Meanwhile, Mr Habben Jansen does not expect any softening of the current exceptional market until "the first quarter of 2022 at the earliest", he said.
Notwithstanding the carrier's record earnings, which will see its shareholders benefit from highly elevated dividends, Mr Habben Jansen said he would actually like to see markets return to some form of normality.
"I tend to think that one of the reasons container shipping has been so successful over the last 30 to 40 years is not only that it was standardised, but also because it was fairly cheap and efficient. I believe it is important for us to get back to that type of situation, and that is why I would like to see markets normalise, because otherwise over time you might see trade patterns change significantly." he said during today's earnings call.
Nevertheless, he thinks the current supply chain crisis may have already had some impact on future orders.
"I think you will see that people will do less single-sourcing and more dual- or multiple-sourcing, simply not to be dependent – on one specific supply chain, where you see that if you have a problem at Vietnam or Ningbo, or wherever, then all of a sudden your entire supply chain is disrupted," he said.