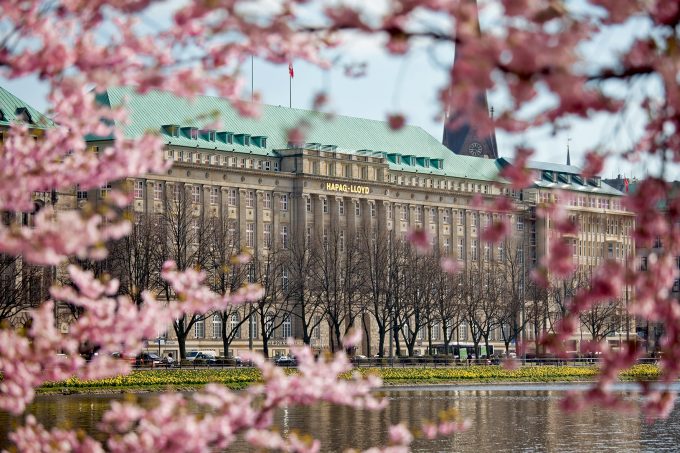 Hapag-Lloyd sank further into the red in the second quarter losing $111m and taking its net loss to $158m for the first half of the year as the carrier's revenues plunged by $1bn compared to the same period of 2015.
The German container line's turnover for the first half was down 19% at $4.2bn on the previous year's $5.2bn, while volumes remained flat at 3.7m teu.
The damage to the company's balance sheet was inflicted by significantly lower freight rates across all of Hapag-Lloyd's trades – average rates were $1,042 per teu versus $1,296 per teu in the first half of 2015, representing a 20% decline.
On the Asia-Europe trades average rates slumped by 27% to $752 per teu, and on the transpacific route Hapag-Lloyd's rates declined by 24% to $1,285 per teu – pricing on both trades were dragged down by much lower contract rates.
Chief executive Rolf Habben Jansen said the carrier had "saved a lot of money", in the period, "but it was not sufficient to compensate for the significant fall in rates".
"The result is definitely disappointing," Mr Habben Jansen concluded.
And it is only over the medium term that Hapag-Lloyd expects a recovery from sub-economic rates that are blighting liner companies, with Mr Habben Jansen believing that a full recovery could take up to two years.
Rates, he said had improved with the advent of peak season in various trades but the rebound "is coming later than anticipated and much more is needed going forward".
This has obliged Hapag-Lloyd to revise its EBIT (earnings before interest and taxation) outlook for the remainder of 2016 from "clearly increasing" to "clearly decreasing".
Hopes are firmly pinned on the forthcoming merger with UASC, which is expected to complete by the end of the year and will propel the German carrier up the biggest container line league table to fourth place.
The new entity will thus be just ahead of the merged Cosco-China Shipping COSCOCS entity, and behind CMA CGM, after the most recent round of consolidation had demoted Hapag-Lloyd to seventh in the rankings.
Crucially, UASC brings to the table six 18,000 teu and 11 15,000 teu ultra-large container vessels (ULCVs), which have been delivered over the past couple of years and are two classes of vessel that Hapag-Lloyd does not operate and has been reluctant to order in the current climate.
As it stands, UASC's fleet of 61 vessels will bring the combined capacity of the merged group to 1.6m teu over 231 ships and, according to Mr Habben Jansen, it will increase annual turnover by $2.2bn to $12bn.
The merger, which will see the headquarters remain in Hamburg, needs to be completed "as quickly as possible", said Mr Habben Jansen, in order to tap the eventual estimated $400m of annual synergy savings.
He said that some of these cost savings may come through as early as 2017 as structural efficiencies such as office duplications in city and port locations are made.
Currently Hapag-Lloyd employs around 9,300 staff on land and at sea, 8% fewer than the previous year, and significantly below the 12,000 personnel employed at the time of its merger with CSAV.
Investors were negative on Hapag-Lloyd this morning as it share price declined by 3% to €15.90 – well below its November 2015 IPO float price of €20 per share.