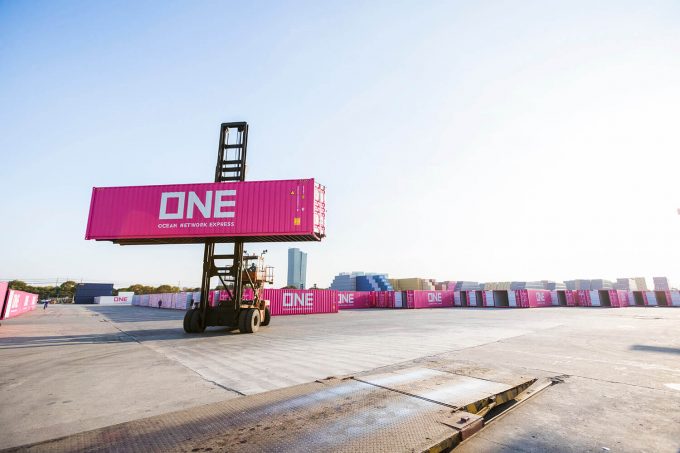 Hapag-Lloyd and merged Japanese container carrier Ocean Network Express (ONE) are the latest box shipping lines to join the IBM/Maersk Line-led blockchain initiative TradeLens.
The news means more than half the world's container shipping capacity is part of the TradeLens project, following the addition of MSC and CMA CGM at the beginning of June. Of the top six largest box carriers, just Cosco/OOCL is not part of the project.
"The addition of more leading carriers to TradeLens will help global supply chain customers expand and explore the benefits of digitisation and deliver new opportunities to the increasing number of TradeLens ecosystem participants across the global supply chain," said Vincent Clerc, chief commercial officer at Maersk.
"As a neutral industry platform, TradeLens offers supply chain visibility, ease of documentation and the potential of introducing new products on top of the platform. These attributes bring new opportunities for the Maersk transformation towards becoming an end-to-end container logistics company improving the experience and services we offer the customers," he added.
Hapag-Lloyd and ONE will each operate a blockchain node, participate in consensus to validate transactions, host data and assume the role of 'trust anchors' – or validators – for the network.
Both companies will be represented on TradeLens' advisory board, which includes members from across the supply chain to advise on standards for neutrality and openness.
"TradeLens has made significant progress in launching a much-needed transformation in the industry, including its partnership model," said Martin Gnass, managing director of information technology at Hapag-Lloyd.
"Now, with five of the world's six largest carriers committed to the platform, as well as many other ecosystem participants, we can collectively accelerate that transformation to provide greater trust, transparency and collaboration across supply chains and help promote global trade."
A senior TradeLens executive added that blockchain technology was ideally suited for large networks of disparate partners, given that established a "shared, immutable record of all the transactions that take place within a network and enabled permissioned parties access to secured data in real time".
Bridget van Kralingen, senior vice president of global industries, clients, platforms & blockchain at IBM, explained: "Through improved trust, simplicity and improved insight into provenance, blockchain solutions such as TradeLens are delivering proven value across business processes for our clients and their ecosystems.
"Massive new efficiencies in global trade are now possible, and we're seeing similar effects across the food industry, mining, trade finance, banking and other industries where the value of blockchain is more apparent than ever before," she added.