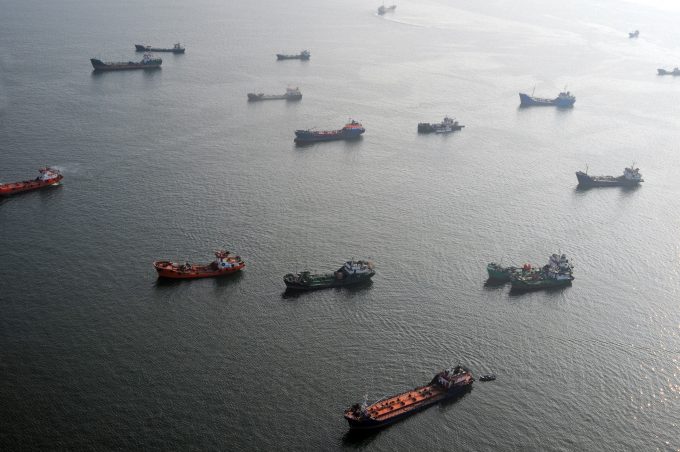 Containership charter rates are stubbornly stuck at historically low levels across most sizes against a backdrop of weak demand, with brokers this week describing fixing activity as "very subdued".
In addition, the sudden collapse of Hanjin Shipping at the end of August added to industry woes, with a number of ships returned early to owners after charter party defaults.
According to Alphaliner's latest idle fleet update, 24 ships operated by the South Korean carrier, with a total capacity of 152,500 teu, had been added to the redundant pool as of 19 September.
But there is much more to come: there are still 47 Hanjin-operated vessels stranded at sea with cargo on board, many of which will join the idled fleet once they are discharged.
By 19 September, the number of containerships in hot or cold lay-up at anchorages around the world had risen to 344, for 1.2 million teu of capacity, representing 5.9% of the registered world fleet of cellular tonnage.
And with the Chinese Golden Week holidays starting on Saturday, more ships are likely to be idled as demand contracts.
Ocean carriers have already announced a raft of blanked sailings over the holiday and, to mitigate the impact, will seek to implement further slow-steaming and stretch the rotations of voyages to avoid idling more tonnage.
But despite creative scheduling by carriers, Alphaliner suggests that surplus capacity could reach 1.5 million teu by the end of the year – close to a new record.
Alphaliner reports that five former Hanjin-chartered VLCs (very large containerships) of 7,500-10,000 teu have been released into a "muted market". It is early days, but the owners of these ships may struggle to obtain daily hire rates anywhere near the terms of the charter parties agreed with Hanjin.
This will add "salt to the wounds" of shipowners who will almost certainly have to write off the charter hire arrears and the substantial additional costs incurred to return the vessels to the market.
Owners will also be forced to renegotiate with their lenders, given that the knock-on effect of the Hanjin defaults could put them in breach of their own loan covenants linked to the long-term hire of the ships.
The most beleaguered sector of the containership industry, however, remains the classic panamax vessels of 4,000-5,300 teu, with 82 currently seeking employment around the world.
One broker told The Loadstar this week that panamax containerships were "virtually unemployable", despite daily hire rates of $4,500 a day, including free positioning, being offered by the brokers of desperate owners.
We recently saw the first 10-year-old panamax containership sold for scrap, and that record, for the youngest-ever trading vessel to be recycled, could fall again if the market remains stuck in the doldrums for much longer.