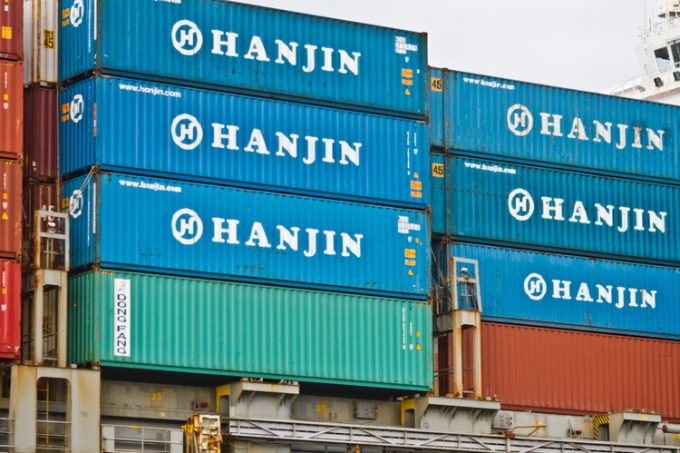 Some of Hanjin's largest customers in the US have filed court requests to allow them to reclaim their cargo, amid accusations that the bankrupt Korean shipping line has resorted to holding cargo hostage as a way of "extorting" cash.
Samsung, Korea's largest exporter of electronic equipment, said in its filing to the US Bankruptcy Court in New Jersey that the interim provisional relief order granted to Hanjin last week needed to be revised to allow the shipping line's vessels to depart ports once unloading is complete.
Samsung hit out at the court's provisional relief order that bars creditors from arresting a Hanjin vessel after it docked, but also prevents the vessels leaving the port.
It said: "The requirement that ships not leave is effectively an arrest order, leaving both Hanjin and ports unsure whether ships will ever leave. Not surprisingly, no ships have docked and no cargo has been unloaded since the order."
Samsung has requested the court revise the order to allow firms to pay third parties – such as terminal operators or 3PLs – to handle Hanjin containers with cargo still inside so their goods can be retrieved.
"This relief makes eminent sense, as it does not prejudice the debtor in any way and ensures that cargo holders – who are otherwise hostage to these proceedings – can obtain possession of their products in timely manner," its filing said.
Samsung is clearly becoming increasingly convinced that Hanjin has little chance of exiting bankruptcy and fears its cargo could be stranded for a long time.
"The debtor [Hanjin] has not yet demonstrated (or revealed to creditors) any ability to obtain financing to commence even rudimentary operations so that ships can berth and cargo be delivered.
"This lack of progress continues to result in significant damage to cargo owners, including Samsung. Given these circumstances, it is time for the court to impose an appropriate process to allow individual cargo owners to obtain possession of their property," it said.
Meanwhile, Californian furniture supplier Ashley Furniture has also begun legal proceedings, accusing Hanjin of "extortion" by "holding its cargo hostage" to raise cash from Ashley, which has some 850 boxes in Hanjin's possession.
"Hanjin's actions immediately prior to, and following, the 6 September hearing have made it abundantly clear that Hanjin is seeking to abuse the protection of the bankruptcy code and hold Ashley's property hostage; and is making extortionate demands before agreeing to transfer possession of cargo to beneficial cargo owners," it said.
It added that Hanjin had previously provided port-to-door services at an all-in rate that included terminal handling charges and inland haulage costs, and would collect the empty containers once they were unstuffed at Ashley's distribution centres.
Ashley said since it was placed into Chapter 15, Hanjin had continued to charge full port-to-door rates but only delivered cargo to the nearest terminal. The line was claiming that the return of empty containers was now Ashley's responsibility and that the shipper needed to settle "unpaid port and haulage charges".
It claimed: "Thus, Ashley is being forced to pay twice for the same service, once to Hanjin and once to the port operator or land transporter.
"These unilaterally revised contract terms will force Ashley to incur substantial additional costs to retrieve its products from their current locations, as well as the costs of returning the debtor's containers and chassis to the port, terminal or other location."