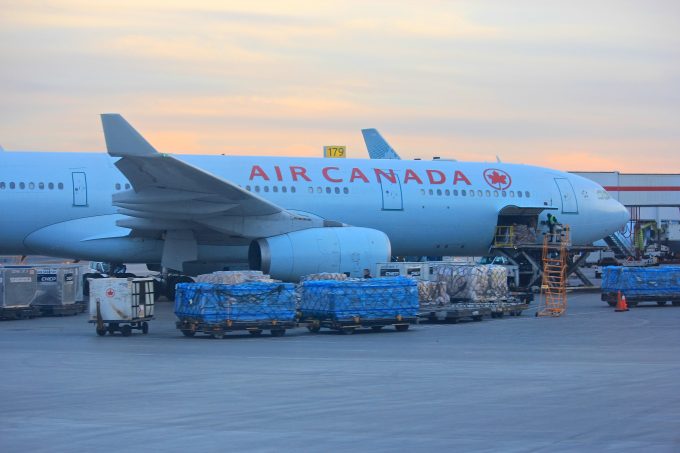 Canada's largest airfreight carriers are charting different courses.
While Air Canada adheres to its fleet expansion schedule, and has expanded its freighter line-up, Cargojet is looking to sell a third B777-300 that had been planned for fleet growth and looking for opportunities to place as many as five B757 freighters in leasing arrangements.
In February, Cargojet adopted a more defensive approach to darkening market conditions and deferred conversion of four B777-300s into all-cargo and sold two for $53.5m.
And management confirmed plans for the sale of another 777 last week when it tabled its results for the first quarter.
Revenues of C$231.9m (US$171.2m) were 0.7% lower than a year ago, while net earnings fell from C$56.4m a year ago to C$30.5m.
President and CEO Ajay Virmani said: "Cargojet is not immune to the softening industry trends, as well as the macro factors of slower economic growth, higher interest rates and persistent inflation. Therefore, our team is focused on realigning every aspect of our cost structure with current demand levels, including realigning our network, significantly improving productivity in our maintenance and operational areas and cutting all discretionary expenditures, while maintaining industry best on-time-performance.
"We'll continue to strike the right balance between cost management and staying prepared for opportunities when the tide turns. It is a delicate balancing act," he added.
The company has retained the conversion slots for the 777-300s and the strategy is to align the acquisition of aircraft closer to conversion slots.
While the 777-300s have receded, Cargojet is staying the course with the addition of four B777-200s to be converted by US start-up Mammoth Freighters. The first is expected in the first quarter of next year, pending certification by the US Federal Aviation Administration.
At the moment management is looking to find takers for four or five of its B757 freighters under wet- or dry-lease contracts. To reduce block hours in the domestic arena, the carrier has placed more B767s on intra-Canadian routes, freeing up some of its 757s.
And Mr Virmani is upbeat on the longer-term prospects. He said: "Despite the current softer economic conditions, the long term macro trends that drive our business remain firmly intact. E-commerce, continued demise of shopping malls, further pressure on business district shopping stores driven by remote work and passenger airlines shifting to narrow body aircraft will continue to lead to increased air-cargo volumes." he
The day after Cargojet's announcements, Air Canada took delivery of two new B767-300Fs – the only two production freighters in a fleet of converted cargo aircraft. And the airline has not adjusted its freighter delivery schedule in response to market conditions, confirmed Matthieu Casey, MD commercial of AC Cargo.
The next of eight converted 767 freighters is due to arrive in October, followed by the others before Q2 25, while the first of the carrier's production B777 freighters should be ready in the first quarter of next year.
The new aircraft are factored into AC's recent expansion, which saw the launch of freighter flights to Liege and Basel in March and April. According to Mr Casey, both markets have performed well. Other recent additions to the freighter network have been Bogota, Dallas and Atlanta.
AC Cargo has stuck to its strategy of leveraging its overall network. A considerably part of the flows on the new freighter routes – as well as other transatlantic sectors – consists of traffic originating or terminating in the US and Latin America, Mr Casey said.
In the meantime the carrier has made some upgrades to its website, beefing up schedule visibility and tracking features, and making the website more intuitive to use. More upgrades will follow, Mr Casey said.