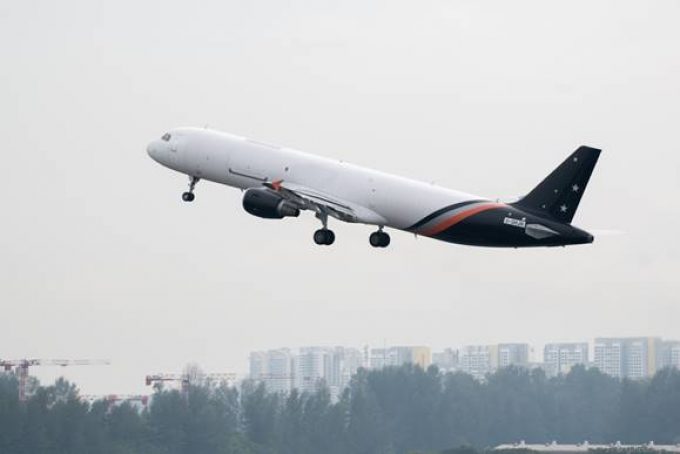 The first A321 freighter conversion has been delivered to Titan Airways, but one consultant has warned that the market could overheat and the large number of conversions is "not without risk" for aircraft owners.
The A321 conversion is the first of "several" aircraft lessor BBAM has contracted with Elbe Flugzeugwerke (EFW).
"The delivery of the A321 P2F marks the first lease of this aircraft type in the world," said Steve Zissis, president of BBAM.
"We are working with ST Engineering, Airbus and EFW on the new A321 P2F programme, which delivers strongly in the areas of innovativeness and value enhancement."
The majority of conversions are aimed at the express market, but, warned Frederic Horst, MD of Cargo Facts Consulting, the e-commerce market could cool again.
"People are all rather excited about the air cargo market at the moment, particularly with large parts of the business operating at elevated demand levels," he explained.
"Conversions mainly affect the narrowbody and medium widebody segment, as there are no active conversion options for the large widebody segment. The customer base of narrowbodies and medium widebodies is pretty well defined and driven by a handful of ultimate customers – DHL, FedEx, UPS, SF Express, Amazon, China Postal Airlines and a few smaller express companies like YTO, Estafeta, Toll and so on.
"While the operator base is quite diverse, ranging from the big airline groups like ASL, Swift/West Atlantic, ATSG and Atlas to smaller outfits like Cargo Air, CargoLogic, Bluebird, iAero, Sun Country and Allied, their ultimate customers are usually DHL, FedEx, UPS or Amazon."
Mr Horst added that the express and e-commerce business had been given a strong boost by Covid-19, with international air express up some 8-9% in 2020, while the US domestic market was up some 9%. SF Express moved 70% more shipments in 2020 than in 2019.
"Networks need to accommodate greater volumes, but obviously these levels are not sustainable, especially when things start to get back to normal and we can actually physically go shopping again and get on a plane."
This year will see a boost in capacity for conversion programmes as lessors try to boost their freighter credentials. There are three active 737-800 programmes, operated by AEI, Boeing, and IAI, with the latter pair adding additional 767 conversion lines.
EFW is looking to increase capacity for its A321 programme, while 321 Precision Conversions is set to receive its supplemental type certificate (STC) for A321-200 conversions this year.
Last year, according to Cargo Facts Consulting, up to 48 narrowbodies were redelivered and 17 widebodies – "roughly in line with the average annual expected figure". This year, the consultant expects to see some 60 narrowbodies converted and about 30 widebodies. Next year should see about the same volume.
But, Mr Horst warns, the increased focus by lessors on narrowbody freighters, no doubt concerned over the immediate future of passenger aircraft, could cause some challenges.
"You have a lot of new lessors getting into the 737NG market, so that does create some risk, given that the customer base is fairly small.
"Amazon purchasing its own 767s also reduces the size of the pie available to the leasing market, although companies like ATSG have done well diversifying their customer base. If demand stays high, then the market can absorb the extra capacity. "
He added: "There is also a bit of a safety valve coming from aircraft with retirement potential. Freighter retirements have been below average since at least 2017, as demand for freighters has remained high. Last year, only 17 jet freighter aircraft were permanently withdrawn from service and 34 the year before. This is much lower than the average of about 85 a year over the last 15 years.
"By contrast, our 20-year forecast estimates approximately 56 retirements a year for the first five years."