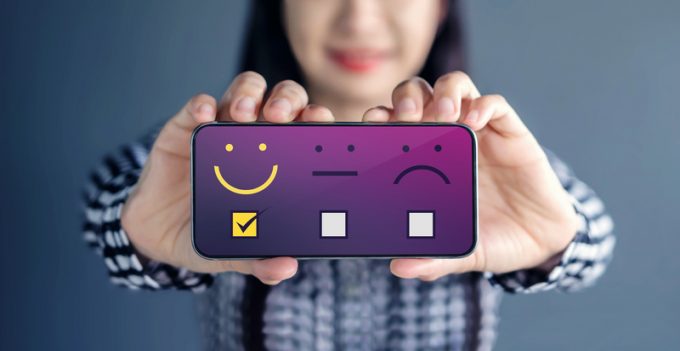 Customer experience is more important than price and product, according to a new survey of manufacturers, retailers and logistics service providers. 
Adelante SCM and BluJay Solutions, in partnership with the Council of Supply Chain Management Professionals, conducted an online survey in March, receiving 438 responses. 
Supply chain and logistics professionals were asked: "Over the next five years, customer experience will overtake price and product as the number-one brand differentiator. Do you agree or disagree?" 
Overall, 61% of the survey respondents agreed, or strongly agreed, with this assessment. Only 22% disagreed.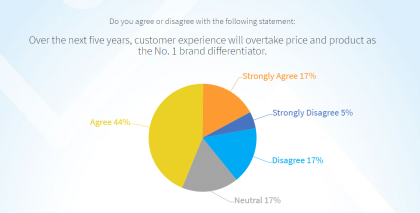 "Organisations are investing record amounts in enhancing the customer experience," said Julio Hernandez, KPMG's US customer advisory practice lead.  
"Analysts predict that over the next five years, customer experience will overtake price and product as the number-one brand differentiator. Almost nine out of ten organisations expect to be competing primarily on the basis of customer experience." 
But while most companies agreed, there was a split between larger and smaller ones. More large companies (31%) disagreed, or strongly disagreed, compared with smaller companies (18%). And North Americans aren't convinced either: 27% disagreed or strongly disagreed, compared with 11% of companies in other global regions. 
The drive to enhance customer experience is also leading innovation. The 2018 survey saw 'reduction in costs' equal with 'customer experience' in driving innovation, but this year the latter gained 30% of the vote, while cost reduction was key for 29% of companies. Interestingly, it was laggards, or poorly performing companies, that focused on cost reduction. Some 20% of companies, meanwhile, said they innovated to ensure a competitive advantage.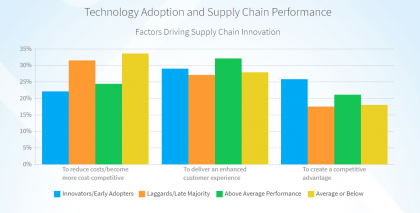 Their customers, however, continue to want cost cuts. 
For manufacturers, retailers and distributors, reducing costs remained the top driver of innovation, at 33%. To deliver an enhanced customer experience ranked second (26%), and to create a competitive advantage was third (19%). 
For LSPs, however, delivering an enhanced customer experience remains key. It received 38% of votes from LSPs — a noticeable 21% increase on last year's survey.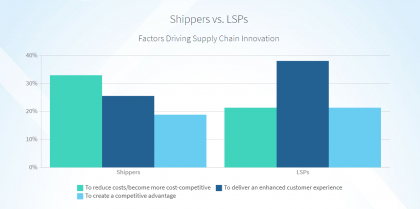 "Perhaps last year's challenging transport market, which led to double-digit increases in transport costs for many shippers, has made cost reduction an even bigger priority this year," notes the survey.
"Whatever the reason, if a majority of shippers truly believe that companies will compete mostly on the basis of customer experience in the near future, they need to start aligning their supply chain innovation efforts accordingly."
And where is the majority of supply chain investment going?  
Overall, business intelligence and analytics received the most votes, at 22%, followed by visibility/control tower (21%), and transport (16%).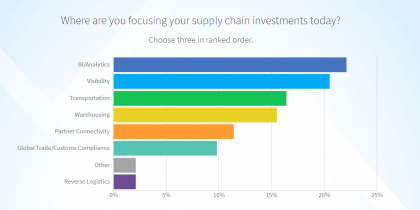 But business intelligence and analytics was deemed to be fairly unimportant to the customer experience – perhaps because they don't experience it directly. Real-time visibility took the lion's share of that vote, at 28%.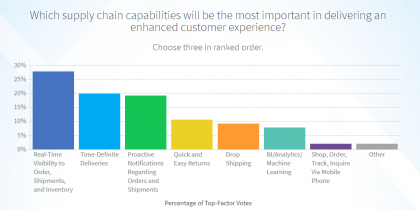 The biggest barriers to innovation were siloed systems and/or processes (21%), while outdated IT systems came second with 18% and lack of upper management support for funding/resources (14%) rounded out the top three. 
Companies still have some way to go on electronic connectivity with partners. Most companies were between 80% and 100% connected, but the quality of data received from partners was low: overall, only 40% of the respondents rated the data quality they receive from trading partners as good or very good, while 14% rated the quality as poor or very poor. 
You can read the results of the whole survey here.