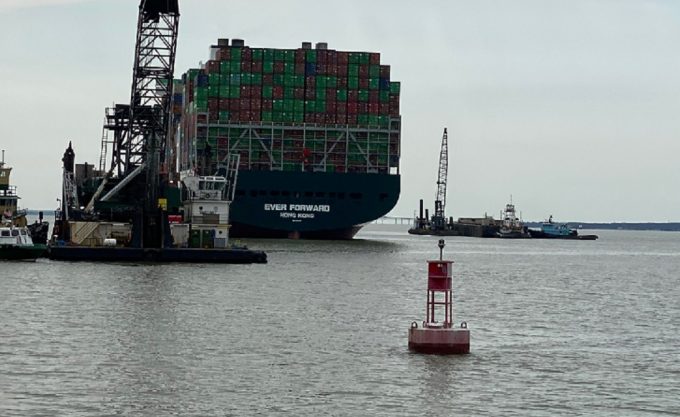 The first attempt to free the Evergreen ship Ever Forward, grounded in Chesapeake Bay on 13 March, is expected at tomorrow's high tides at 2.11 am and, if necessary, the next at 3.08pm.
Baltimore Port executive director William Doyle said the first attempt to refloat the ship would use five tugs, two pushing on the vessel's starboard side, two pulling from port side and the fifth pulling from the stern.
Mr Doyle added that if the bid failed a second reflotation attempt would take place on 3-4 April, which would add two anchored pulling barges from the stern and  a tug pulling on the bow.
Mr Doyle went on to say: "There will be restricted manoeuvrability during refloat operations.
Heavy weather caused the suspension of dredging around the Ever Forward on Saturday, but was resumed the following day as the weather cleared. Ever Forward is grounded in mud and clay and the dredging operations are expected to ease the reflotation.
On Thursday, the carrier said: "Evergreen is working closely with the salvor Donjon-Smit to carry out the rescue operation of Ever Forward in accordance with the refloating plan approved by the competent authority. The main concern of all parties involved, including the competent authorities, our customers and alliance partners, is to return the vessel to its operational status quickly and safely.  As such, the issue of General Average will be evaluated at a later date based on the progress of the refloating operation."