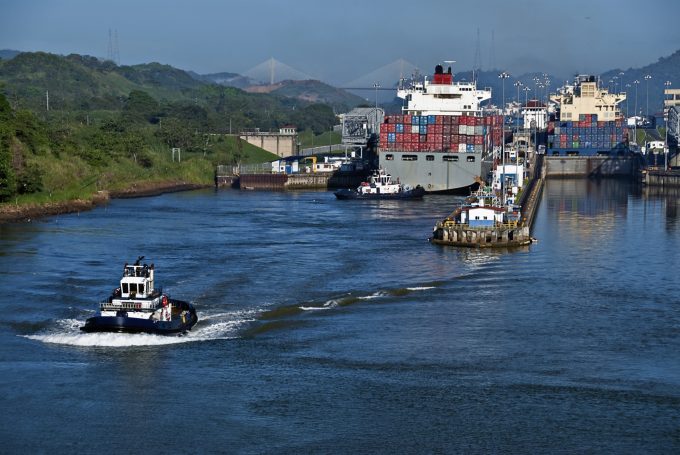 The first post-panamax containerships are on their way from Asia to the US east coast on enhanced services going via the newly expanded Panama Canal.
It could be the final nail in the coffin for many classic panamax boxships that have been the workhorses of the route for years.
According to Alphaliner data, six vessels ranging from 6,000 to 10,000 teu are due to arrive at the waterway between 30 June and 8 July, on six transpacific US east coast upsized services replacing nine strings deploying ships of up to 5,100 teu – the previous Panama Canal maximum.
The first official post-panamax container vessel to pass westbound through the canal's enlarged lock chambers will be the 9,443 teu Cosco Shipping Panama (renamed for the historic occasion) on 26 June, during the canal's inauguration ceremony.
Thereafter, the G6 alliance's new NYX will be the first of the upgraded transpacific east coast services to use the canal, when the 10,010 teu MOL Benefactor arrives at Panama on 30 June, en route for New York, Norfolk and Savannah.
The upsized services will leave seven Asia-east coast all-water strings still operating panamax containerships, but Alphaliner suggests that these could be upgraded "in the foreseeable future", depending on market conditions and the prospects of carriers to off-hire the incumbent vessels.
And as has been proven on the Asia- Europe tradelane, container lines soon become uncompetitive if they do not cut their unit costs by operating the largest possible ships on a service.
So what will become of the estimated 80 conventional panamax containerships of 4,000-5,100 teu that will eventually become redundant from the transpacific trade lane? The most optimistic answer is that their managers and owners face a "challenging" period to try to fix employment – at least as a contribution to vessel operating costs.
Indeed, according to Alphaliner, there are about 40 panamax container vessels currently seeking employment on the spot market against an unfavourable backdrop of oversupply. It said that charter rates remained "stuck at rock-bottom levels" – typically at about just $5,000-$5,500 a day. This is a massive $20,000 a day lower than what could have been achieved for the ships five years ago, revealing the extent of the damage to the panamax containership sector from newbuild big ship cascading.
In fact, today's daily hire rates for a gearless 4,000-5,000 teu panamax ship are at the same level as for a 1,100 teu feeder.
With a shortage of supply of the smaller ships, due to an almost blanket concentration on constructing big ships in the past few years, panamax ships could soon become the 'new normal' feeder ship.
And considering that 4,000 teu vessels were the largest containerships afloat 20 years ago, relegating them from ocean liner services to an intra-feeder operation is a humble ending for the class.