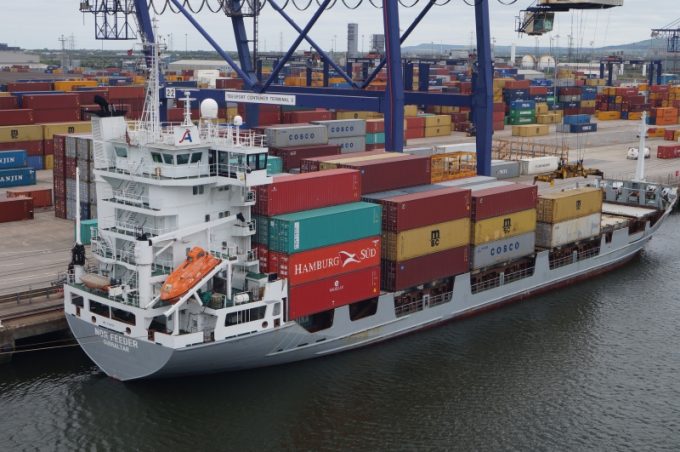 North European feeder operators are downsizing their fleets to mitigate the impact of falling demand from ocean carrier customers.
One Hamburg-based broker told The Loadstar yesterday there were "very few extensions" being negotiated in the sector.
"Since the end of April, most of my discussions have been related to off-hire dates," he said, "it's not even about the daily hire rate as the feeder guys just do not have enough business coming through to justify the number of ships they are operating."
According to the latest eeSea data, the three vessel-sharing ocean alliances have blanked 34 of the scheduled 130 sailings from Asia to Europe this month, as shippers have cancelled or postponed orders due to Covid-19 lockdowns.
Entire service loops have been suspended or merged and port calls have been rationalised to reduce voyage costs and the knock-on effect for North Sea, Baltic Sea and Irish Sea feeder operators is enforced scheduling changes in order to carry less volume.
"We haven't got a clue how much they want us to load from one week to the next, and from where," said one Irish Sea feeder operator. "Their ships still running from China are often dumping cargo at transit detention ports, so the numbers are constantly changing.
"It's in our DNA to be flexible, but with margins so slim we can't afford to send half-empty ships into the Irish Sea and just bring air back," he said.
Indeed, Singapore-based X-Press Feeders has advised it would now only deploy one instead of two 800 teu vessels on its ISX3 loop, with a revised itinerary of Southampton, Le Havre, Liverpool, Belfast, and Greenock and then back to Southampton.
Meanwhile, feeders deployed on the UK's east coast will be particularly badly affected by carriers deciding to skip Felixstowe.
According to a SeaIntelligence analysis, the Suffolk container port is "one of the hardest hit" of the North European hubs, with a "30% drop in vessel calls from Asia".
The biggest feeder operator serving the UK east coast ports is DP World subsidiary Unifeeder, with a fleet of some 60 vessels deployed in a network criss-crossing the North Sea.
The Aarhus-based operator is understood to want to return several ships to their owners until transhipment volumes pick up, and is adjusting its network coverage to meet the reduced demand.
Pre-pandemic, Unifeeder and its peers would be offering deepsea clients ad hoc feeders to relay UK boxes from the Rotterdam and Antwerp hubs, but one Felixstowe source told The Loadstar UK importers would "more than likely" have to wait for the next mother vessel to tranship their containers back.
"You have the mix of non-urgent boxes that have nowhere to go when they get here, and the carriers that cannot afford to feed them, so they could be sitting on the quay for weeks," he said.
But, he added, he did have "some sympathy" for shippers wanting their containers promptly.
"They will just get caught up with the rest of the non-urgent stack," he said.