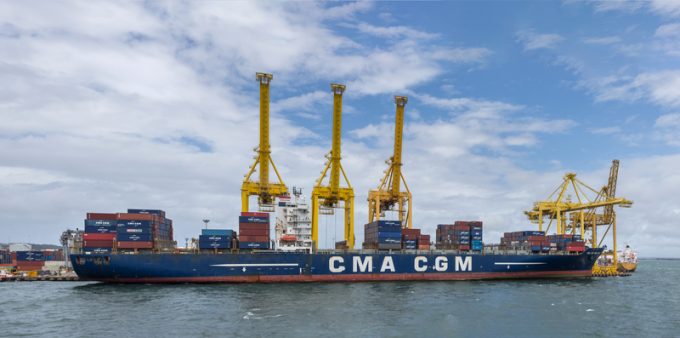 DP World Australia (DPWA) is to axe 200 dock workers, blaming volume losses since September.
Yesterday's announcement came amid a second bout of industrial action at the port operator's Sydney, Melbourne, Brisbane and Fremantle terminals, which it said had impacted the entire supply chain, causing delays and additional costs for cargo owners and shipping lines.
"Four vessels have been redirected to other stevedores to mitigate delays, and we estimate 40 vessels and up to 110,000 containers will be delayed," said Andrew Adam, DPWA's chief operating officer.
DPWA said it will proceed with the redundancies of 100 dock workers at each of its Sydney and Melbourne facilities, representing around 11% of the operator's stevedore workforce.
These job losses are in addition to the 50 stevedores leaving DPWA's Melbourne facility this week, taking voluntary redundancy.
The move signals a major escalation in the protracted dispute between the terminal operator and the Maritime Union of Australia (MUA), a division of the Construction Forestry Maritime Mining Energy Union.
"DPWA has been postponing these crucial restructures since September 2018 to progress constructive enterprise agreement negotiations," said Mr Adam. "In the absence of significant negotiation progress over the past nine months, the company must push on and address the impact of volume losses.
"We have been very patient, but further restructures of our workforce have become necessary. We have not taken the decision to downsize lightly," he added.
The MUA says it is protesting against outsourcing and terminal automation, as well as for income protection. It claims the timing of the announcement was a "clear attempt to threaten workers into accepting cuts to their rights and conditions.
"From day one, DP World started with threats to our families," claimed MUA assistant national secretary Warren Smith.
"Management have refused to meet, telling wharfies that they'll get an agreement only if they withdraw their claims and accept the company's, which result in less job security and worse conditions.
"It started with threats to workers' income protection insurance, now they are targeting wharfies' jobs," he added.
However, DPWA said negotiations since April had seen the company reduce its claims from 29 to five, while the MUA still has 53 out of its original 59 claims, which, Mr Adam said, had the "potential to increase our costs by over $15m a year".
He added: "The union has repeatedly demonstrated a dogged unwillingness to make any concessions on their claims. We are always prepared to meet with the union to negotiate, provided those meetings will be constructive."
As the dispute drags on, shippers and their logistics partners continue to suffer. Paul Zalai, director of the Freight & Trade Alliance, said the 96-hour stoppage at DPWA Swanson Dock in Melbourne this month had been "particularly severe".
"Six vessels were affected by the strike on imports, as well as holding back exports for six others," he told The Loadstar. "Some containers were inside the affected terminal at the time and were stranded there for the duration of the stoppage. We understand that some of these containers included high-value and time-sensitive cargo."
Mr Zalai said resulting supply chain costs included those for reefers held on power, higher transport to clear backlogs on a Sunday, truck delays and waiting times to return empty containers, which resulted in shipping line detention charges.
"In addition to the logistics costs, these types of delays present a real and serious risk of loss of contracts or contract penalties arising from delayed sailings, the potential for exporters to miss transhipments due to delays and importers not having stock on time," he added, noting that previous stoppages had forced shipping lines to omit ports to maintain schedules.
DP World, meanwhile, said its "challenging outlook" was caused by Australia's surplus port capacity, combined with unprecedented carrier consolidation and changes to shipping services calling at the country.
The company is facing fierce competition from its fully or semi-automated terminal operator competitors Patrick, Hutchison and ICTSI's Victoria International, according to the Australian National Review, which notes that DPWA is the last to hold out against automation – apart from at its Brisbane terminal – and employs the largest manual stevedore workforce in Australia, 1,800.
Mr Adam told local media DPWA had "no plans to automate", but would not agree to union demands to rule it out during the term of the enterprise agreement, "particularly when our competitors are automated".