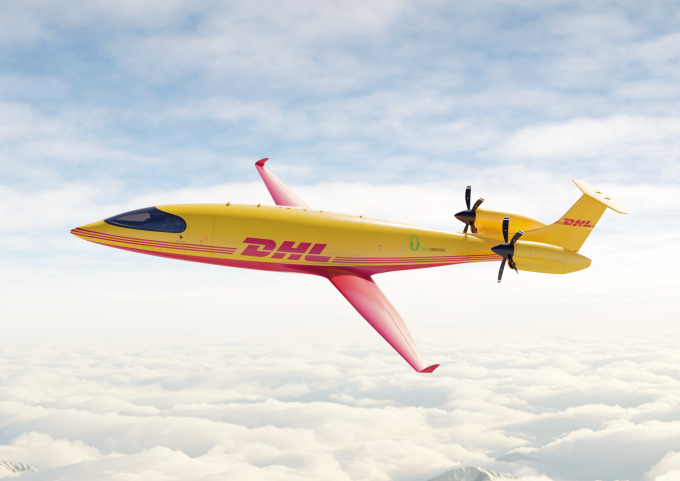 DHL Express' electric aircraft plans went airborne this week, with the maiden flight of its Alice electric cargo plane, of which it has 12 on order.
The electric aircraft took to the skies for the first time on Tuesday, at Grant County International Airport in Washington, US.
In August, DHL placed the order with Seattle's Eviation for 12 Alices, which will be manned by a single pilot, and has a maximum payload of 1,200kg and a maximum range of 815km (440nm) – enough to fly from Marseille to Frankfurt.
"With Alice's range and capacity, this is a fantastic sustainable solution for our global network," said Travis Cobb, DHL Express EVP global network operations and aviation. "Our aspiration is to make a substantial contribution in reducing our carbon footprint, and these advancements in fleet and technology will go a long way in achieving further carbon reductions."
DHL intends to use its 12 Alice aircraft for middle-mile operations "in all environments currently serviced by piston and turbine aircraft", and added that it would be ideal for "feeder routes". It can be charged in 30 minutes, while the aircraft is being loaded.
Eviation claims the magniX electric propulsion system is quieter than a conventional turbine aircraft and, with fewer moving parts, will require less maintenance, meaning aircraft turnaround times could be shorter.
DHL appears to be banking on human pilots to compete in a space currently being targeted by the likes of Dronamics and Natilus, which promise to deliver unmanned aircraft which can operate middle-mile flights over longer ranges – but, crucially, not using battery power.
Dronamics, with its Black Swan aircraft, claims a maximum payload of 350kg and a range of 2,500km, using liquid fuels, while Natilus claims its 3.8T drone will be able to carry 4.3 tonnes over 1,667km (905nm).
DHL is also working to introduce a delivery drone for last-mile deliveries in towns and cities – the twin-rotor VTOL Parcelcopter 4.0.
However, it appeared to advise investors to temper hopes for drones, describing the emerging sector as "overflowing with unrealistic hype, as overeager entrepreneurs and established drone-based companies overpromise on their innovative technology", it said in a blog post today.
Jürgen Gerdes, board member for post, e-commerce – parcel at DP-DHL, said: "With the Parcelcopter combination of fully automated loading and unloading, as well as an increased transport load and range, we have achieved a level of technical and procedural maturity to eventually allow for field trials in urban areas."