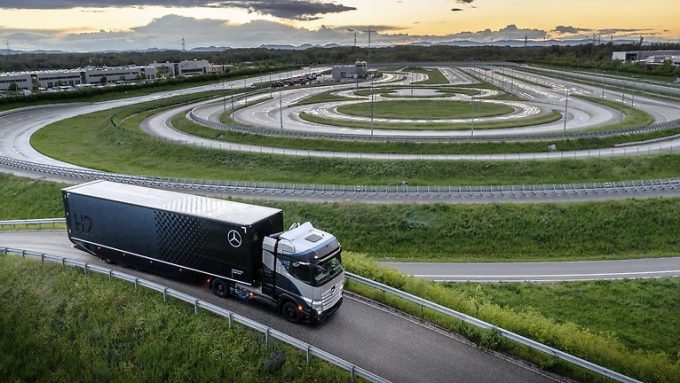 Daimler road freight subsidiary Truck AG has entered into a partnership with TotalEnergies, with the aim of providing sufficient critical mass for widescale adoption of hydrogen in trucking.
Part of a strategy to make their entire product range zero-emission tank-to-wheel across North America, Europe and Japan by 2039, Daimler intends to provide pre-production hydrogen fuel-cell-powered trucks to customers in France, Netherlands, Belgium, and Luxembourg in 2025 to be used to trial the new fuel.
TotalEnergies, meanwhile, has committed to opening 150 hydrogen refuelling stations along a freight corridor spanning Germany, Belgium, Luxembourg, France and the Netherlands.
The agreement will be Daimler's third partnership with energy majors so far this year, following deals with Shell in July and BP Mobility in September.
Spokesman Florian Laudan told The Loadstar: "As a truck OEM, we have one of the variables that make a hydrogen economy for road transport possible – making sure we have zero-emission hydrogen-powered vehicles in place. But it also needs infrastructure, which is why we are forming these partnerships with energy providers to kickstart hydrogen networks throughout Europe."
Mr. Laudan added that a regulatory environment would be necessary to provide incentives for a switch to the more expensive hydrogen fuel.
"We are not going to produce the hydrogen, only to recommend what is to be used in our trucks. But we think it's only viable if we have green hydrogen available – created from renewable energy, rather than coal or other fossil fuels. It's the job of the energy providers to make sure it is produced sustainably."
In 2025, Daimler plans to have pre-production hydrogen-powered vehicles on the road, and "by 2027, we will go into serious production and have [Mercedes-Benz GenH2] trucks available off the shelf".
Hydrogen offers considerable advantages over long journeys of up to 1,000 km, but would be unsustainable for short runs thanks to the complex handling properties and refuelling considerations. For short-haul purposes, for example for distribution traffic, battery-electric would be the answer, Mr. Laudan said, thanks to the ability to charge while loading and the far greater flexibility in terms of charging locations.
"For distribution routes, most are not further than 120 km. This is absolutely viable today, and we have the battery-electric entering production this year."
Range has certainly been a concern for long-haul road haulage by electric vehicles, with new projects such as Tesla's Semi – which the manufacturer claims has a range of 800km fully-loaded – coming under major scrutiny, despite a small number of orders.
But Daimler's Mr Laudan presented The Loadstar with another objection: "We don't see battery-electric will suffice in terms of long-haul. If you go to a fuel station, it is not unusual to see 80 trucks parked. Imagine what would happen if these 80 trucks were plugged into a charging network – you would need a power plant close to every fuel station."